Boat capsizes during rough weather; 39 people remain missing off Florida coast
The Coast Guard estimates seas were higher than seven feet and winds were around 20 mph when the boat capsized.
MIAMI – Agencies continue to search off the coast of South Florida for 39 people who were reported missing after their boat encountered rough weather on Sunday morning.
A Coast Guard spokesperson said the vessel was part of a possible human smuggling operation, and the capsized boat was spotted around 45 miles east of Fort Pierce Inlet, Florida, on Tuesday.
The Coast Guard reported that a survivor was found clinging to the vessel and was rescued by a good Samaritan.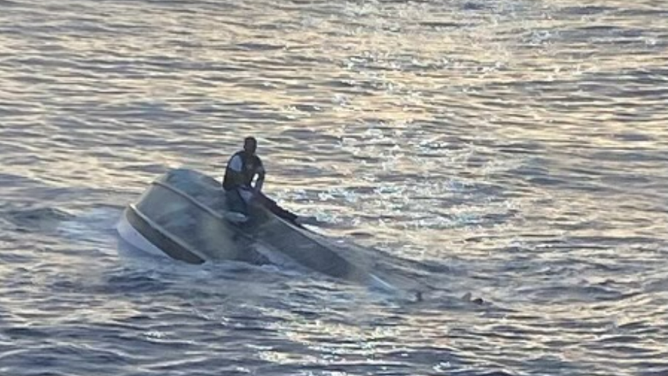 The Coast Guard said the survivor was transported to a Florida hospital with signs of dehydration and sun exposure.
The survivor reportedly told investigators he was with 39 other people when they left Bimini in the Bahamas and ran into severe weather.

COAST GUARD WARNS ABOUT THE DEADLY TRUTHS OF WINTER BOATING
Seas were estimated to be higher than seven feet, and winds were around 20 mph at the time incident.
The Coast Guard said they don't believe any of the passengers were wearing life jackets.
So far, rescuers have searched more than 1,300 square miles but have not found any signs of survivors.