Blizzard Warnings issued as heavy snow continues in northern Rockies, High Plains
Wind gusts to 65 mph are expected to create blizzard conditions through Wednesday afternoon
Our first major winter storm of the season continues Wednesday as heavy snow snarls travel across the northern Rockies and High Plains.
Portions of Interstate 70 westbound to the west of Denver were closed early Wednesday because of safety concerns in the snowy conditions. FOX 31 in Denver had a reporter on the scene of a crash between Loveland Pass and Silverthorne, Colorado.
To the north, Interstate 90 was also closed Wednesday morning between Rapid City, South Dakota, and the Wyoming border due to heavy snow and strong winds, according to the South Dakota Department of Transportation.
The National Weather Service has issued a Blizzard Warning for parts of southeastern Wyoming and northwestern Nebraska. Wind gusts to 65 mph are expected to create blizzard conditions in this area through Wednesday afternoon. Visibility could drop to near zero at times, so any unnecessary travel should be avoided.
Winter Storm Warnings and Winter Weather Advisories are in effect for other parts of Wyoming, eastern Montana, the western Dakotas and western Nebraska.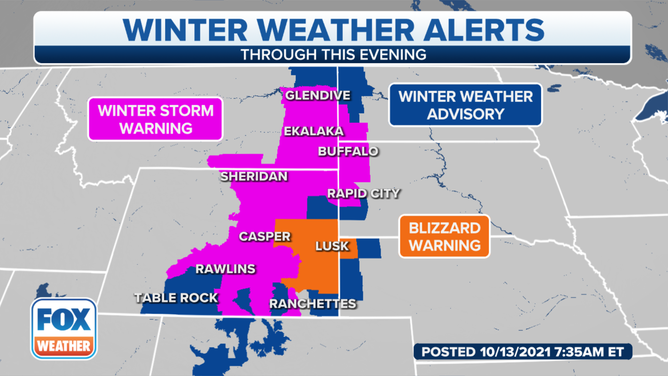 An additional 5 to 10 inches of snow is expected in these areas through Wednesday afternoon, along with 40- to 60-mph winds that will lead to near-whiteout conditions.
The Black Hills of South Dakota to the west of Rapid City could pick up a foot or more of snow on Wednesday.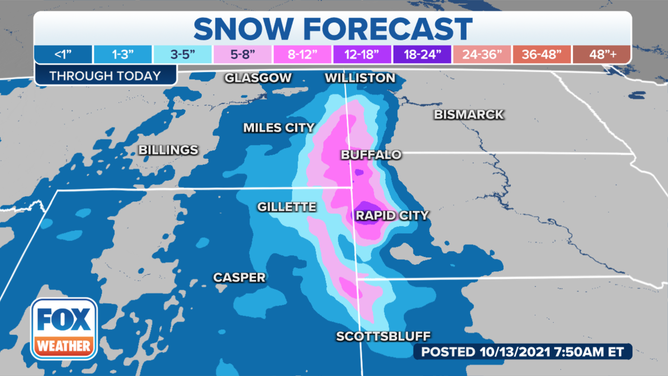 Between 1 and 2 feet of snow has already fallen in the higher terrain of Montana and Wyoming, providing significant relief for firefighters battling massive wildfires in the region.
Snow will come to an end in most areas Wednesday night, but cold temperatures will remain in place through the end of the week across much of the West.