Blast of frigid air to settle across central US this week
Subzero temperatures are expected across the region Thursday morning
Winter is settling in across the country, and that's especially true across the Plains and Midwest, where strong winds and cold temperatures will allow for wind chill values of 50 below zero in parts of the region through Thursday afternoon.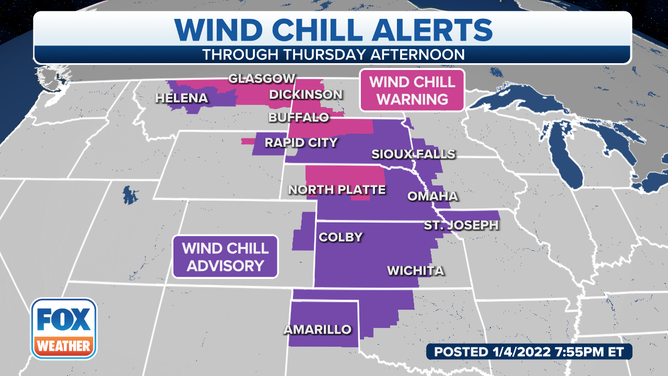 Wind Chill Warnings are in effect across northern Montana, western North Dakota, northern South Dakota and northern Nebraska.
In northern Montana, including the cities of Helena, Butte and Great Falls, wind chill values are expected to be between minus 40 and minus 45 degrees, which is extremely dangerous for anyone out in the elements.
Conditions will be even worse in parts of western North Dakota, where wind chill values could drop to at least minus 50, which could cause frostbite on exposed skin in a matter of minutes.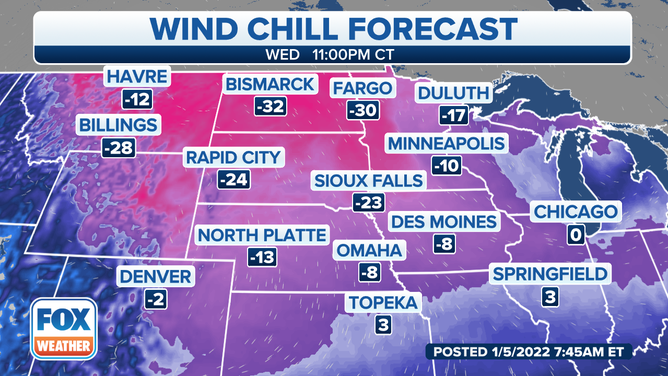 Several counties in northern South Dakota, including the Tribal Lands of the Cheyenne River Reservation, are also under a Wind Chill Warning as the cold air and strong winds could make it feel like minus 40 degrees through Thursday afternoon.
Wind Chill Advisories are currently in effect into Wednesday evening. After that, those advisories will likely be upgraded to warnings as the increasing winds could make it feel like a frigid minus 35 degrees.
Wind Chill Advisories extend to the south into the Oklahoma and Texas panhandles, where places like Amarillo, Texas, could have wind chill values between minus 5 and minus 10 degrees.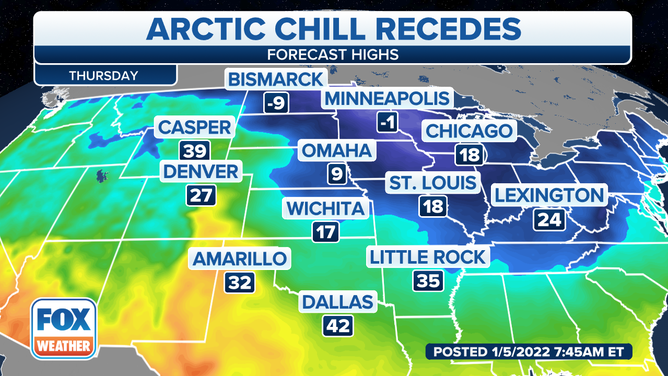 It's going to be a frigid start to the day on Thursday morning across much of the Plains and Midwest, and temperatures won't rebound.
Bismarck, North Dakota, could get to nearly minus 20 degrees in the morning, while other places, like Billings, Montana, and Rapid City, South Dakota, could drop to minus 10 degrees.
Minneapolis, too, will see subzero temperatures Thursday morning.
And as the day continues, temperatures won't rise too much. Bismarck and Minneapolis are expected to remain below zero, while farther south in Omaha, Nebraska, it will likely reach only 9 degrees.