Biden says we are in the midst of a climate crisis at G20 summit in Rome
President calls addressing climate change 'all-hands-on-deck situation'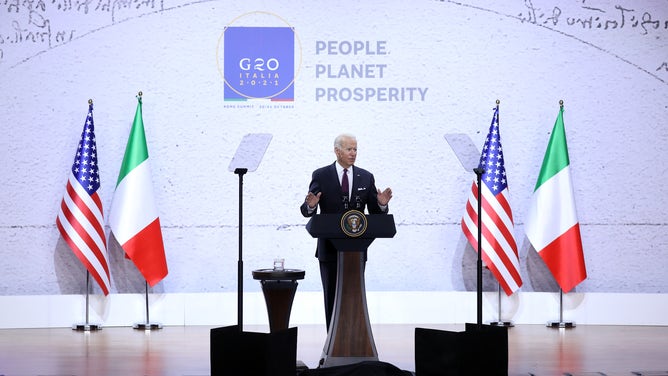 ROME – President Joe Biden spoke Sunday from the G20 Rome summit on what he and prominent leaders are going to do to address the impacts of climate change before leaving for Glasgow, Scotland, for a major climate conference.
"We know tackling the climate crisis is an all-hands-on-deck situation," he said. 
He addressed efforts to ease the supply chain backlogs and said he met with a broad coalition of partners to address them. Biden says he wants to make sure the U.S. has access to the products the country needs and says that he wants to make sure we can secure against future shocks, noting the pandemic, climate change or any other types of disasters. 
The President pushed for his Build Back Better plan, which he hopes is voted on this week. 
"It includes, for the first time, several billion dollars to help strengthen the supply chain to make sure that we have access to everything that we need, and it's going to give workers and folks making all these products just a little bit of breathing room," Biden said. 
The Build Back Better framework aims to set the U.S. on course to meet its climate goals, along with helping to grow the economy. It targets incentives to increase domestic supply chains in solar, wind, and other critical industries in communities on the front lines of the energy transition.
The framework also facilitates the deployment of cleaner transit, buses, and trucks and supports critical community capacity building, including grants to environmental justice communities.
Also to be voted on this week is the infrastructure bill, which Biden mentioned. This bill addresses strategies to reduce the climate change impacts of the surface transportation system and a vulnerability assessment to identify opportunities to enhance the resilience of the surface transportation system and ensure the efficient use of federal resources.
"I believe we will pass my Build Back Better plan, and I believe we will pass the infrastructure bill," Biden stated. "Combined, they have $900 billion in climate resistance and dealing with climate and resilience, and it's the largest investment in the history of the world that's ever occurred."
The summit ended Sunday with members agreeing to end coal financing with hopes to contain global warming.
Biden said, "We passed a number of things here to end the subsidization of coal; we made commitments here, from across the board."