Atlantic hurricane season remains active as forecasters monitor 3 systems
Tropical Storm Nicholas and two other areas are being monitored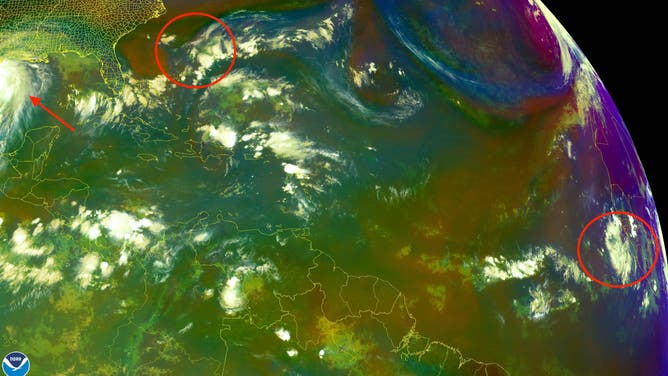 Last Friday marked the climatological peak of the Atlantic hurricane season, and the basin remains active as forecasters monitor three systems, including Tropical Storm Nicholas near the Texas coast.
Here's a closer look at each of the systems being monitored Monday.
Tropical Storm Nicholas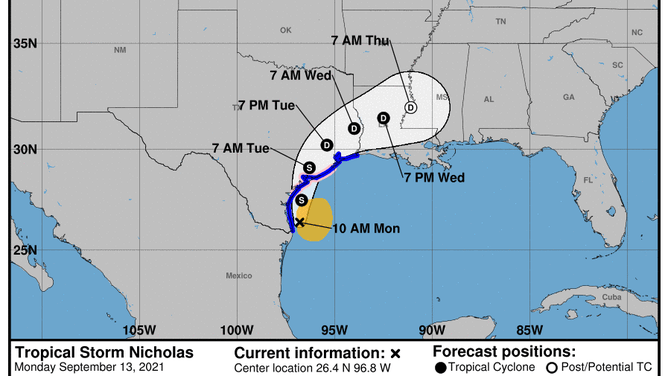 Tropical Storm Nicholas was moving northward just offshore of the southern coast of Texas Monday morning. It will bring the threat of significant flash flooding to parts of the state through the middle of this week.
As of 10 a.m. Central, Nicholas had winds of 60 mph. It was centered about 140 miles south of Port O'Connor, Texas, and was moving northward at 5 mph.
The entire Texas Gulf coast and parts of Louisiana are under some type of hurricane, tropical storm or storm surge alert because of Nicholas.
The latest forecast from the National Hurricane Center calls for Nicholas to strengthen as it approaches the Texas Gulf coast Monday afternoon and evening. It could become a minimal hurricane as it skirts the coastline before making landfall late Monday.
Nicholas is expected to maintain tropical storm strength as it moves inland through Tuesday. It is forecast to weaken to a tropical depression by Wednesday morning as it moves north of Houston.
While gusty winds will accompany Nicholas, the biggest threat from the storm, by far, is flash flooding.
Forecasters at the NHC are warning of widespread rainfall totals of up to 10 inches across parts of southeastern Texas, especially in the Houston area. Some places could receive as much as 15 inches of rain.
TROPICAL STORM NICHOLAS TO BRING FLASH FLOODING TO PARTS OF TEXAS
2 areas being monitored for tropical development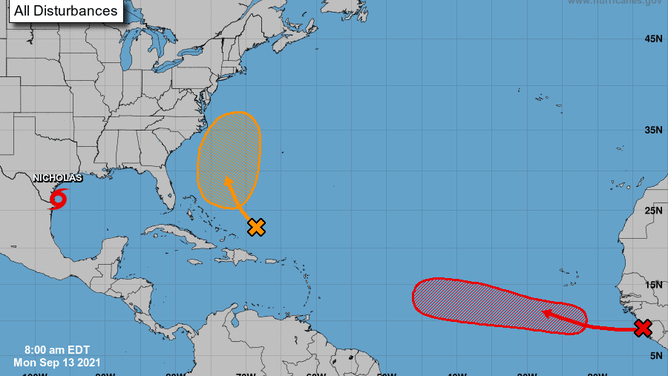 The NHC is also monitoring two areas for potential tropical development in the Atlantic, each on opposite sides of the ocean basin.
The first is a tropical wave located off the western coast of Africa near the coasts of Guinea and Sierra Leone. Environmental conditions are predicted to be conducive for gradual development of this disturbance, and the NHC said there's a high chance a tropical depression will form by the end of the week while the system moves westward at 10 to 15 mph across the eastern tropical Atlantic Ocean.
The second area to watch is a couple hundred miles north of the southeastern or central Bahamas, where a tropical wave is expected to interact with an upper-level area of low pressure by midweek. Some gradual development of this system is possible during the second half of the week, and the NHC gives it a medium chance of development while it moves northward across the western Atlantic.