Atlantic heating up as peak of hurricane season nears
Forecasters watching Hurricane Larry, Tropical Depression Mindy, 2 other systems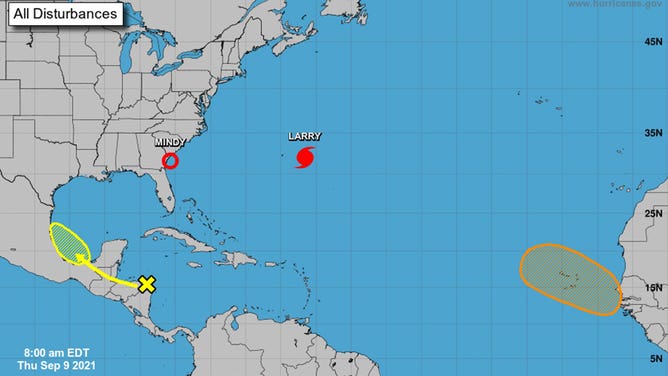 The Atlantic Ocean is staying quite busy this week as the peak of hurricane season nears.
Friday marks the climatological peak of the Atlantic hurricane season, and forecasters will be busy as they track two named systems and two areas of interest.
Here's a closer look at each of the systems being monitored.
Hurricane Larry
Larry was a Category 2 hurricane as of Thursday morning and centered about 200 miles east of Bermuda. The storm is forecast to bring tropical storm conditions to Bermuda on Thursday before making a run at Atlantic Canada this weekend. Hurricane watches are up for parts of Newfoundland.
In the U.S., rough surf and rip currents will be the primary effects of Larry. Rip current alerts have been issued from Florida to New England.
Tropical Depression Mindy
Mindy weakened to a tropical depression Thursday after making landfall as a tropical storm Wednesday evening. The storm dumped heavy rain on parts of Florida before starting its move toward the Atlantic.
Tropical waves
Forecasters are watching two tropical waves, each on the opposite sides of the Atlantic.
The first one is located off the coast of Central America. It has a 30% chance of development within the next five days as it moves across the Yucatan Peninsula and into the southern Gulf of Mexico.
The second is moving off the coast of Africa. It has a 50% chance of development within the next five days as it moves over the Cape Verde Islands.