Heavy rains, coastal flooding expected from Mid-Atlantic to Northeast
Flash flooding could be a concern in the Mid-Atlantic, central Appalachians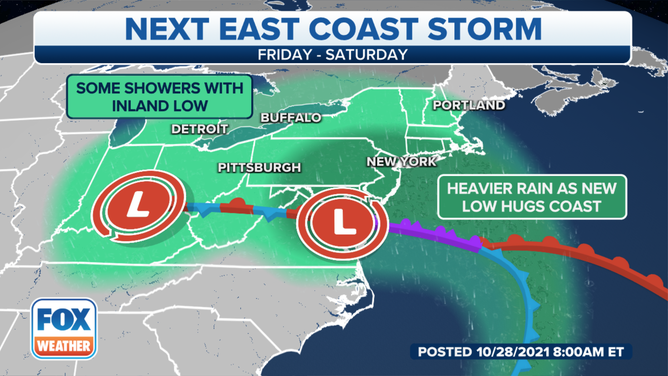 Just as the Northeast and New England begin to clean up following a strong nor'easter, another storm could bring heavy rain and coastal flooding to the region.
The system that caused severe weather along the Gulf Coast is lifting northeastward and its rain shield is gradually lifting into parts of Mid-Atlantic and Northeast.
12 TORNADOES REPORTED IN LATE OCTOBER OUTBREAK
The greatest chance for flooding on Friday stretches from Virginia to southern Pennsylvania. Forecast models show as many as five inches of rain could fall with possibly higher amounts in the mountainous regions.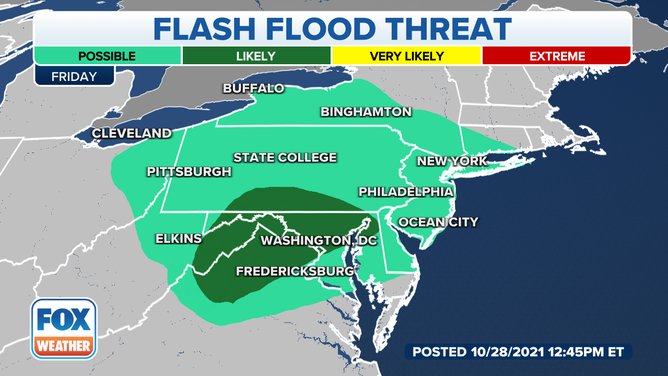 In addition to the heavy rainfall, a prolonged onshore flow is expected to produce coastal flooding, especially during periods of high tide. Coastal communities from Virginia to New York are under advisories because of the threat of tidal flooding.
Tidal flooding is expected to peak late Friday into Saturday along the Chesapeake Bay. The National Weather Service Office in Baltimore warns areas near Washington, D.C., Maryland, and Northern Virginia could possibly see the worst tidal flooding event since Hurricane Isabel in 2003.
The system will move further into the Northeast and New England on Saturday, likely producing heavy showers and possibly an isolated thunderstorm. Meteorologists expect cities from Providence, Rhode Island to Bangor, Maine to pick up on several inches rain over the weekend.