Another cold day ahead for eastern United States
Freeze warnings, frost advisories issued in the Southeast Wednesday morning
Many people across the eastern third of the country woke up to some of the season's coldest temperatures, and the colder air will stick around throughout the day.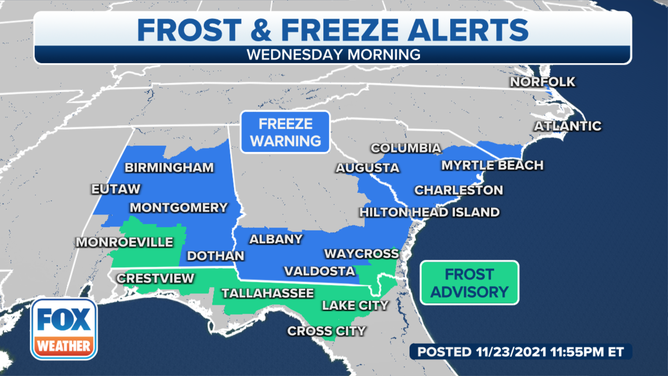 As a result of the colder air, freeze warnings and frost advisories were issued. But those alerts expired at 8 a.m. local time as temperatures started to slowly rise after sunrise.
Parts of the southeast saw temperatures in the 20s and 30s Wednesday morning, including a reading of 28 degrees in Chattanooga, Tennessee and Tallahassee, Florida. Even places closer to the coast like Myrtle Beach, South Carolina and Corolla, North Carolina, saw temperatures below freezing Wednesday morning.
Colder temperatures are also expected across the Southeast on Thanksgiving, with Charlotte expected to wake up to temperatures below freezing, as well as in Memphis, Tennessee and Fort Smith< Arkansas.
Further south, it's not expected to be as cold as it was Wednesday morning, but temperatures on Thanksgiving morning could fall into the 50s in many areas.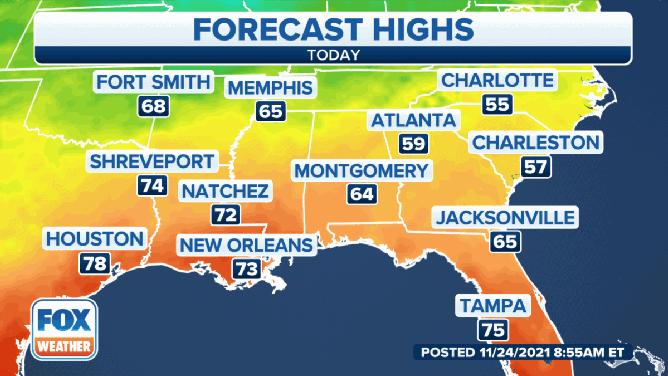 On Wednesday, temperatures are expected to climb into the 70s along the Gulf Coast. A high of a78 is expected in Houston and 73 in New Orleans. Those warmer temperatures also stretch into Florida, where Tamps could see a high of 75 degrees. Some cooler temperatures are expected on Thanksgiving, however. Houston will only get to about 68 degrees on Thanksgiving.
Jacksonville and Tamps should also be a bit warmer on Thanksgiving.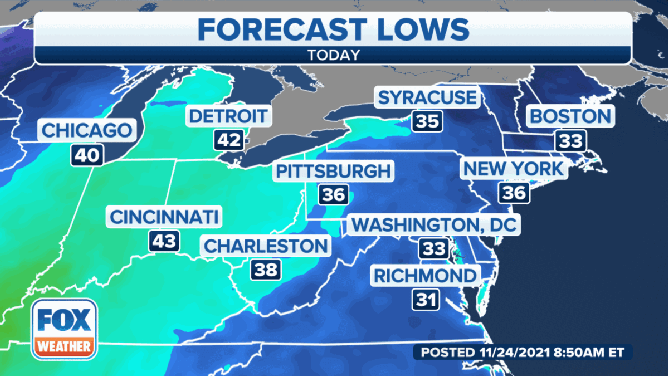 People in the Northeast woke up to temperatures that usually aren't seen until later in the winter.
Boston was hovering around the freezing mark Wednesday morning, but those morning temperatures should be around 41 degrees by Thanksgiving. New York City should also be a few degrees warmer. Temperatures Wednesday morning were just above freezing, and on Thanksgiving morning, it should be in the mid-40s.
Further south in Washington, D.C. and Richmond, Virginia will also warm up a bit in the morning before sunshine warms the area.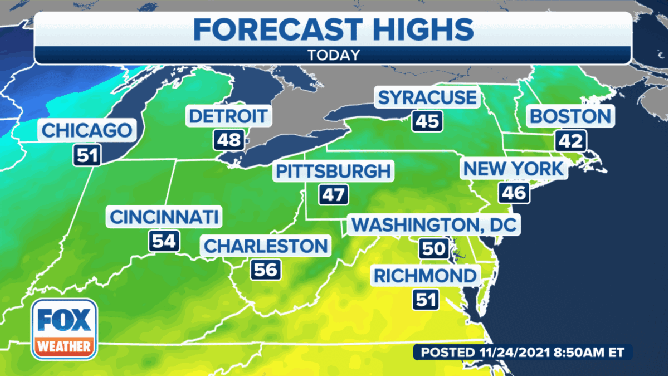 Parts of the Northeast will struggle to reach the mid-40s Wednesday afternoon. Boston will only be about 42 degrees in the afternoon, while New York City should stay around 46 degrees. Expect a slight warmup on Thanksgiving, though. Boston and New York City could both get into the mid-50s.
The Mid-Atlantic will also see warmer temperatures on Thanksgiving. 
Washington, D.C. and Richmond, Virginia will be around 50 degrees today, but by Thanksgiving, you should see temperatures get into the upper 50s or low-60s by the afternoon.