Amtrak passengers stuck in Virginia for over 30-hours waiting for tracks to clear
Lynchburg employees gave out fresh doughnuts, snacks to stranded passengers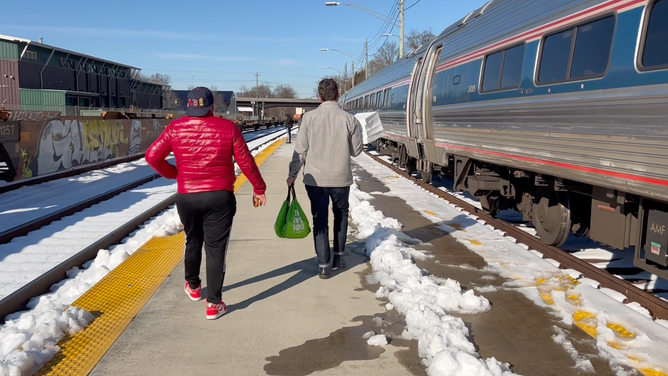 More than 200 Amtrak passengers and crew spent nearly two days waiting for the tracks to be cleared in Northern Virginia to continue their trip to New York.
Since Sunday, the first winter storm of 2022 has brought more than a foot of snow and power outages to the mid-Atlantic states. Snow and ice have stranded hundreds of drivers on Interstate 95 in Northern Virginia and delayed Amtrak passenger trains across the region. 
A Crescent 20 Amtrak train left New Orleans on Sunday bound for New York City but stopped Monday morning north of Lynchburg, Virginia, due to the snowstorm that caused powerlines and trees to fall on the tracks. 
VDOT: 'Completely unacceptable' for drivers to be stranded for hours on interstate
According to a spokesperson for the city of Lynchburg, the Cresent 20 train was still in Lynchburg as of Tuesday afternoon and scheduled to depart after 3 p.m. An Amtrak spokesperson confirmed the train resumed service and was heading north to New York just before 4:30 p.m.
Amtrak's customers across the region have expressed frustration at the lack of communication from the company as they experienced long delays or cancellations.
The last Amtrak Alert update on Twitter happened just before 2 a.m. Tuesday.
Lynchburg City Communication Director Carrie Dungan said the train had about 220 passengers and six crew members. 
"That train was forced to stop, which forced the passenger train to reverse course and return to Lynchburg yesterday," Dungan wrote in an email Tuesday.
Dungan said they were all "warm, fed and safe." Amtrak was providing food and beverages to everyone on the train.
City of Lynchburg employees handed out locally made doughnuts, snacks and "Love Lynchburg" items to the passengers before they left the town. Dungan said they tried to provide things that would help pass the time on the train.
Video provided by the city shows passengers welcoming the Lynchburg employees and gladly accepting the fresh doughnuts and snacks.
A worker at the Amtrak station in Lynchburg said passengers could come and go from the train while they waited.