Alaska extremes: record warmth, record cold and 'Icemageddon 2021'
Kodiak hit a state record high of 67 while Juneau felt a record low of -7 Sunday. Fairbanks drivers are slipping and sliding thanks to 'Icemageddon 2021.'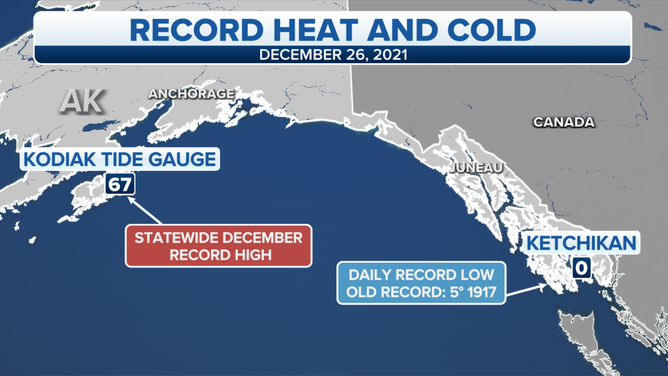 The largest state in the union was home to some rather large swings in the weather, with record heat and record cold on the same day, and an ice storm in between.
On the warm side, Alaska broke a statewide record for the warmest December day on Sunday when the Kodiak Tide Gauge station hit 67 degrees. 
The Kodiak Airport recorded record warmth both Sunday and Monday.  Sunday hit 60 degrees, breaking the old record by 12 degrees, and Monday hit 65 degrees, breaking the old record of 56 degrees. 
Cold Bay, not living up to its name, broke heat records Sunday and Monday too. Sunday warmed to 62 degrees breaking the old record of 44 degrees, and Monday hit 45 degrees.
Virginia Bux, a meteorologist at the National Weather Service in Anchorage, reasoned that it was due to a warm ridge of high pressure setting up over the Pacific and blowing westerly winds down the mountains into Kodiak. 
"It is just kind of a combination of all the right ingredients for it to happen," said Bux. "Some of the air that's going over the mountains is able to downslope, kind of like compressional warming and mixing some of the warmer air that's aloft drying and warming as it descends."
The downslope winds are the same as Santa Ana winds that produce record high temperatures in California. 
A cold front will move through late Tuesday, ending the balmy temperatures.
Record cold
While the Aleutians were recording record warmth, southeast Alaska felt record cold. Ketchikan bottomed out at 0 degrees both Saturday and Sunday.  Saturday's previous record low was 5 degrees that held since 1917.  This weekend's cold marked the second-coldest December temperature for the city.
Towns and cities are struggling with the cold.
"Water pipes, freezing fuel lines, freezing trees going down into power lines. It's definitely impactful to the communities," said National Weather Service Forecaster Kimberly Vaughan. 
Icemageddon 2021
The Alaska Department of Transportation and Public Facilities in Fairbanks coined their weather as "Icemageddon 2021" due to the series of freezing rain-turned snowstorms that coated roads with a thick layer of ice.
SNOW, SLEET, FREEZING RAIN AND HAIL: WHAT'S THE DIFFERENCE?
The DOT warned drivers to avoid the roads until the weather warms. They tweeted that their plows and graders can't remove the ice bound to the pavement. And with the extreme temperatures, it's too cold to melt the slippery layer with salt.
Fairbanks snow is forecast to taper off late Wednesday, but temperatures stay below freezing through the end of the year, according to the National Weather Service.