After record-wet November, areas near Seattle may see a little snow to start the week
A much cooler pattern that will bring several inches of snow to the Pacific Northwest mountains, and perhaps even a little snow in the lowlands near Seattle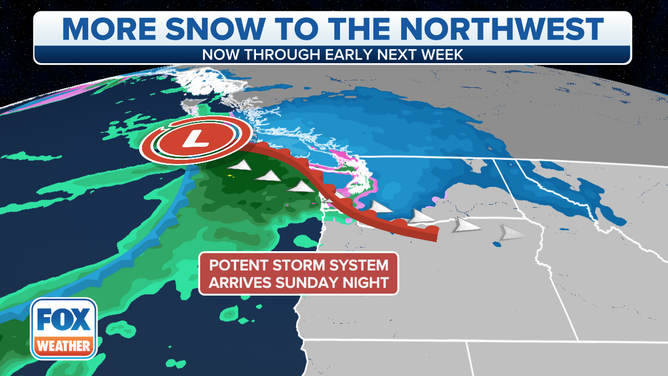 SEATTLE -- November has been one rain event after another, with not much to show for the soggy weather pattern as far as snowpack goes in the mountains.
This week will change everything, with a much cooler pattern that will bring several inches of snow to the mountains and perhaps even a little snow in the lowlands.
Already, temperatures have dropped about 10 degrees in December compared to where they had been hovering for much of November. The first weather system coming in Friday night was not an atmospheric river, for once, but was expected to bring some cool showers to the region and drop about 3 to 6 inches of snow in the mountain passes, and maybe a bit of a rain-snow mix or even wet snow down to about 500 to 1,000 feet in elevation.
Road surfaces remain warm with the recent mild weather, and little-to-no impacts were expected.
But another round of precipitation is due on Monday as a low-pressure center tracks somewhere between Seattle and Vancouver, British Columbia. The track of the low is important, as those on the southern side of the low will experience warmer southerly winds that translate to a rainy and windy day, while those on the northern side of the low track will get a cooler northeasterly breeze that will bring snow levels down to 500 feet or so.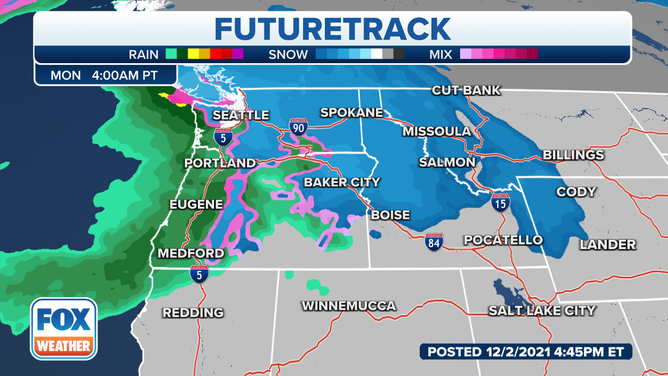 The latest charts show the main Seattle Metro area will stay on the mild, rainier side of the storm, but places toward the Canadian border, including Whatcom County that saw the devastating floods last month, may pick up a little bit of snow accumulation. 
Even the Everett area may see a little wet snow in the area's higher hills, but accumulations look sporadic and light. But if the low ends up moving in farther to the south, the Seattle area could see a little more in the way of snowfall.  
If any were to fall, they would pass Denver for total winter snowfall so far.
Temperatures are expected to warm back above freezing as the day progresses Monday, changing any snow to rain in the lowlands. However, significant snows remain likely in the mountains, with a foot or more of new snow in the various mountain passes.