7 things to know about the Caldor Fire
Here are seven things to know about the Caldor Fire in northern California.
The Caldor Fire has caused thousands of residents and vacationers to be evacuated from the Lake Tahoe area.
Here are seven things you should know about the Caldor Fire.

1. Where it is

The Caldor Fire is burning just south of Lake Tahoe. This area is situated in El Dorado County, which lies on the eastern edge of California, right at the "bend" where California meets Nevada. 

The majority of the fire has been blazing through the southern half of El Dorado County, below where Highway 50 transects the county. 
2. Where did the fire begin

The Caldor Fire began in Omo Ranch, which lies near the town of Caldor in western El Dorado County. 

This location of origin is the Caldor Fire's namesake.

3. When did the fire start

According to the California Department of Forestry and Fire Protection (CAL FIRE), the Caldor Fire started on the evening of Saturday, Aug. 14. 

The fire has been active ever since, burning for 17 days thus far.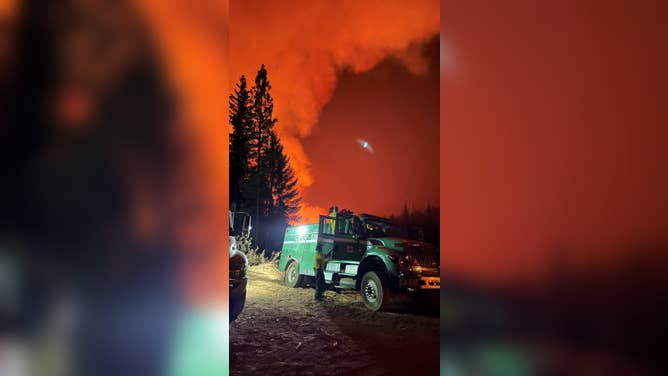 4. What caused it

The cause is currently unknown, according to CAL FIRE. 

5. How many acres have burned

As of Tuesday, Aug. 31, the Caldor Fire has burned through 191,607 acres. About 16% of the fire has been contained.

According to CAL FIRE, about 39 structures have been damaged and 664 structures have been destroyed. 

There are 5 confirmed injuries of civilians and fire personnel.
6. Who are fighting the Caldor Fire

The units overseeing the management of the Caldor Fire are the CAL FIRE Amador-El Dorado Unit (Amador is the county just south of El Dorado County) and El Dorado National Forest. 

The Forest Service is involved because the Caldor Fire is burning through parts of Eldorado National Forest. 

According to CAL FIRE, the USDA Forest Service Pacific Southwest Region has temporarily closed nine National Forests through Sept. 6, 2021, due to the "strained firefighter resources throughout the Country" and "to better provide public and firefighter safety due to extreme fire conditions throughout Northern California". 
The CAL FIRE Aerial Supervision Module evaluates the fire from the air and determines the location for aerial fire retardant drops. This video from over the Caldor fire shows an OV-10D pilot placing a target for the air tanker to drop retardant along the fire's edge. #caldorFire pic.twitter.com/aMtizoh0nO

— CAL FIRE AEU (@CALFIREAEU) August 25, 2021
7. Where to find information about evacuations and shelters

Evacuation orders have been declared for Amador, El Dorado and Alpine Counties. 

Shelters have been put into place in these counties, along with Nevada County and Nevada State.

More information can be found at CAL FIRE's website.