7 amazing facts about Los Angeles weather
With all eyes on the City of Angels for the NFL's biggest party, here are 7 amazing weather facts about Los Angeles.
LOS ANGELES -- With Super Bowl LVI set to go on Sunday, it's the first Super Bowl in Los Angeles since 1993 and the first-ever to be held there in February. So far the city is 7-for-7 in having pleasant weather while hosting the championship game.
With all eyes on the City of Angels for the NFL's biggest party, here are 7 other amazing weather facts about Los Angeles:
1) The winter of 1980 was not very LA-like
In 1980, Los Angeles (LAX) had a streak of 12 days with measurable rain between Jan. 7 and Jan. 18.  It's the longest streak of rainfall in the city's history; a positively Seattle-level rainfall event.
Then Los Angeles went and nearly matched it in February, with a nine-day rainfall streak. That is tied for the second-longest rain streak at LAX.
2) Southern California can get tornadoes
While tornadoes are rare along the Pacific Coast, there have been 45 tornadoes reported in Los Angeles County since 1950, including an EF-2 that injured 30 people on March 1, 1983.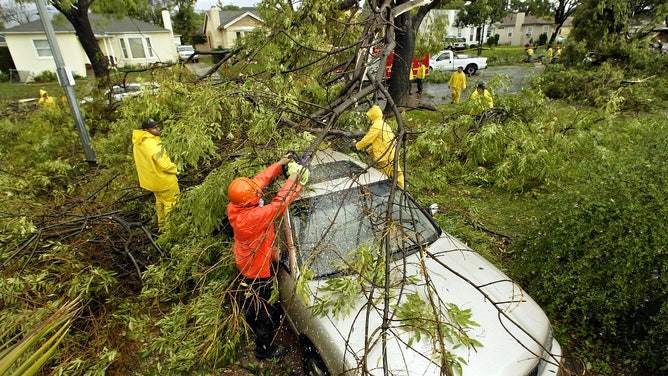 That tornado touched down in south-central Los Angeles and carved a 3.5-mile-long path north, crossing Interstate 10 but stopping just shy of Wilshire Boulevard and Hollywood.  
About 50 homes and 7 businesses were damaged, according to the National Weather Service.
3) Autumn can be hotter than summer
The all-time record high temperature in Los Angeles wasn't set in summer but in autumn. The thermometer reached 110 degrees on Sept. 26, 1963 at LAX Airport. The top nine hottest days on record all occurred in either September or October.
Those months are the heart of the Santa Ana winds season. As the first waves of colder air from the fading summer and approaching autumn reach the Rockies, higher pressure is created inland, while warmer "thermal troughs" create lower pressure over and just off Southern California. 
The large pressure differences create roaring east winds that heat up when sinking down the mountains east of Los Angeles, creating a blow-dryer effect that bakes the region.
MORE: What causes the Santa Ana Winds
4) Not exactly walking in a winter wonderland…
So much for hot chocolate or roasting chestnuts on an open fire…
In 1947, the temperature reached 83 degrees on Christmas Day.
There have been three other Christmases since then with a temperature of at least 80 degrees -- 1980, 1985 and 2013.
It has been as hot as 94 degrees in December; on December 3, 1958. Los Angeles has hit 90 degrees at some point in each month.
5) Then there was that one time there was a snowman in Hollywood…
There has never been measurable snow reported at LAX Airport, but Downtown Los Angeles once had 2 inches of snow on Jan. 15, 1932.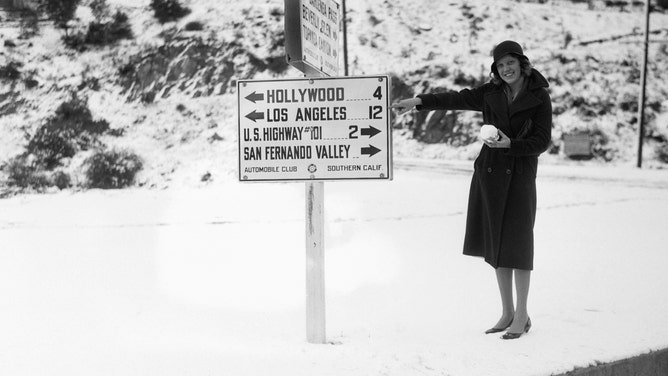 There are two other January dates where Downtown Los Angeles picked up a dusting, in 1949 and 1954.
MORE: 7 Warm Cities Where a White Christmas Seems Impossible but isn't
6) Here are 19 days to plan that worry-free picnic…
There are 19 days in summer where downtown Los Angeles has never recorded measurable rain -- and those records go back to 1877! Though each of those 19 days has recorded at least a trace of rainfall in one or more years -- meaning it rained or drizzled, but not enough to measure.
Those 19 days are:
June 25, 28, 29
July 2, 3, 6, 10, 15, 20, 21, 24, 27, 29, 30, 31
August 14, 21, 23
September 7
7) The Freeze Is…Not On…
Not only has it been 90 years since there was measurable snow in Los Angeles, but it's been nearly 42 years since the last freeze.  
Downtown Los Angeles has not reported a temperature at or below 32 degrees since Jan. 29, 1979, when the low did manage to reach 32. Los Angeles' airport has not reached the freezing mark since 1968.