4,000 lightning bolts electrify the skies over Southern California
Waves of thunderstorms rolled through the Los Angeles and San Diego area Monday night, giving an electrifying show to the millions below.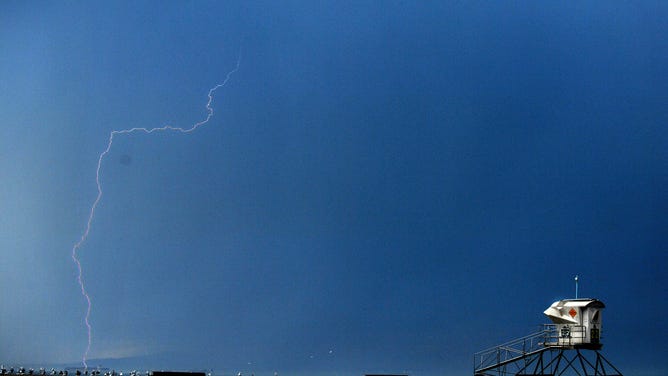 SAN DIEGO -- Southern California was struck by waves of thunderstorms Monday night, bringing a barrage of lightning to the region.
According to the National Weather Service, thousands of lightning strikes were detected across the Los Angeles and San Diego area. 
It was quite a light show out there this evening! ⚡️

There were 2,074 in-cloud and cloud-to-ground lightning strikes detected over Orange, San Diego and Riverside counties. 

Check out the map below to see where the lightning occurred! #cawx pic.twitter.com/9udOf2OGDW

— NWS San Diego (@NWSSanDiego) October 5, 2021
San Diego County led the way with 524 strikes, while Los Angeles County had 171 and Orange County had 63. If you add in the strikes in the eastern deserts and offshore waters, the lightning tally was about 4,000.
Video from social media showed lightning crackling across the skies over Disneyland as hail pelted down on some park-goers.
"We are experiencing numerous lightning strikes across the greater Los Angeles area," tweeted officials with the Los Angeles Fire Department. They advised residents to stay inside until the storms passed.
Kickoff for the Monday Night Football game between the Los Angeles Chargers and Las Vegas Raiders was delayed about 40 minutes when lightning approached the stadium in Inglewood. 
All beaches in Los Angeles County were cleared, and social media reported some tree fires from lightning strikes in the area. 
Downtown Los Angeles recorded their first measurable rain since Sept. 10 and its first significant rain since June 26.
Heavier rains fell in the San Diego area, with 0.64 inches recorded at the airport. Boucher Hill reported 1.15 inches in the mountains, while even the eastern desert areas picked up nearly a tenth of an inch. 
Calmer weather was expected Tuesday and Wednesday, but more rain lurked in the forecast for the end of the week, with high temperatures expected to drop into the 60s.