40 shipping containers tossed into ocean off Washington during rough seas
The ship was about 43 miles west of the entrance of the Strait of Juan de Fuca Friday afternoon on its way to a Canadian port when large waves caused the ship to list to its side

PORT ANGELES, Wash. -- About 40 shipping containers have been knocked into the Pacific Ocean after a container ship encountered rough seas off the Washington coast, according to the U.S. Coast Guard.
The ship was about 43 miles west of the entrance of the Strait of Juan de Fuca Friday afternoon on its way to a Canadian port when large waves caused the ship to list to its side, the Coast Guard said.
There are no reports of anyone injured.
A Coast Guard helicopter from Port Angeles, Wash., has located 35 containers so far, and they are being tracked as they float north.
Conditions have been rough in the Pacific as a series of powerful storms push through the area, including one storm that moved through Thursday measured at 951 millibars central pressure. Seas were estimated around 15 feet where the ship encountered trouble.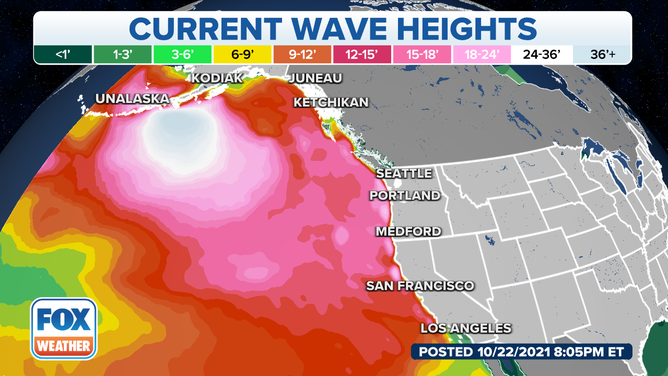 More storms are on the way for the eastern Pacific Ocean over the next several days, including one that will likely register an even more powerful storm center on Sunday. 
High Wind Warnings are in effect for the Washington and Oregon coast, and northwestern interior of Washington, and Flood Watches in effect for northern California.