Magnitude 4.0 earthquake rattles America's heartland
Residents in more than a half-dozen states reported feeling the earthquake
WILLIAMSVILLE, MO – A rare magnitude 4.0 earthquake centered in southeastern Missouri shook the ground Wednesday evening, causing people across at least seven states to wonder what was happening in the ground below.
The United States Geological Survey reported the earthquake occurred around 9 p.m. Central time and was centered about 115 miles south of St. Louis.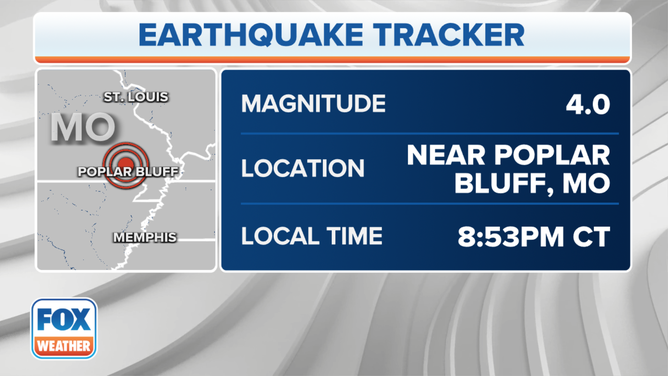 While it is unknown if the New Madrid Fault triggered the latest earthquake, the area in southeastern Missouri has a historical past of experiencing significant events.
The USGS reported back in the early 1800s, a pair of earthquakes estimated to be between magnitude 7 and 8 rocked much of the central United States.
Wednesday's seismic event is not believed to have caused any significant damage.