34 rescued after getting stranded on large piece of ice on Green Bay
Stranded fishermen were stuck for about an hour-and-a-half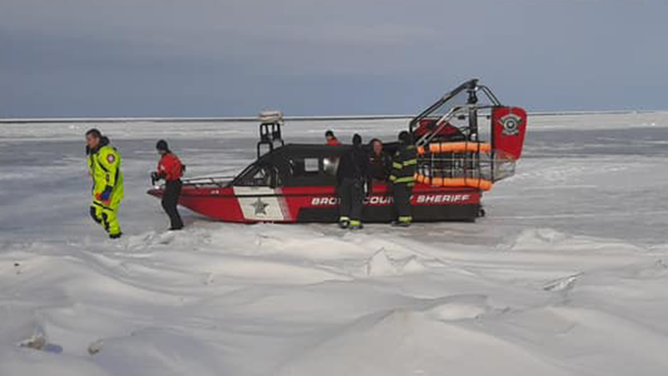 SCOTT, Wis. – More than two dozen people needed to be rescued after becoming stranded on a large piece of ice that had broken off the main shoreline on Green Bay over the weekend.
FOX 11 Green Bay reported just after 10 a.m. on Saturday, the Brown County Sheriff's Office received reports that ice that was carrying fishermen had separated from the shores off Point Comfort.
Ladders at the ready for ice rescues in New York City
"I heard reports that the ice had drifted out approximately 2,000 feet from where they originally were," Lt. John Bain, with the Brown County Sheriff's Office, said to FOX 11. "So, our iceboat operators indicated that the ice had moved farther each trip that they went back for a rescue."
Bain said he believes the stranded fishermen were on the ice for about an hour-and-a-half.
As for what caused the ice to separate from the shore, Bain said he thinks it was caused by a passing ship.
"A barge may have come through and may have disrupted the ice," he said. "The disruption of the ice along with naturally occurring conditions may have led to that."
No injuries were reported among those who were stranded.