2 men rescued after truck swept from Alabama road by rising floodwaters
More severe storms could return to parts of the South late Friday into the weekend as a new weather system sweeps from the West into the central and southern US
COURTLAND, Ala. – Two men were rescued Thursday in northwest Alabama after their pickup was swept from the road by rising floodwaters. 
This comes after a strong line of storms pushed east into the area late Wednesday evening producing heavy rainfall and wind gusts up to 40 mph.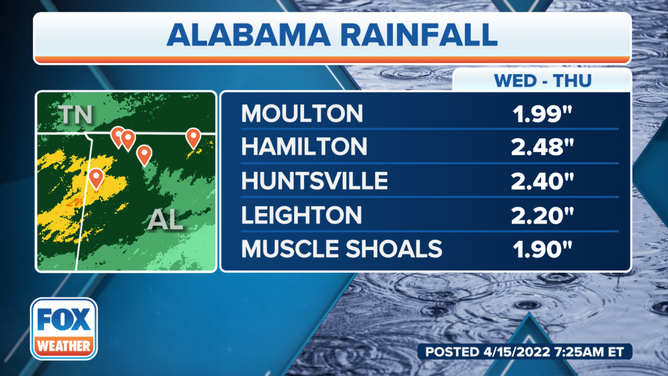 The Lawrence County Sheriff's Office received a call about 10:30 a.m. after the men were seen sitting on the hood of the vehicle submerged in water at County Road 593 south of Courtland. 
Deputies arrived with volunteer firefighters to assist in the water rescue. The Morgan County Rescue Squad put a trained swift water rescue diver in the water and was able to stabilize the vehicle with a towline and assist the men to safety. The vehicle was later removed from the water by a towing company.
"Moving water is a very powerful force and with all the rain we have had recently it does not take much to flood a roadway," Sheriff Max Sanders said in a Facebook post. 
More severe storms could return to parts of the South late Friday into the weekend as a new weather system sweeps from the West into the central and southern U.S.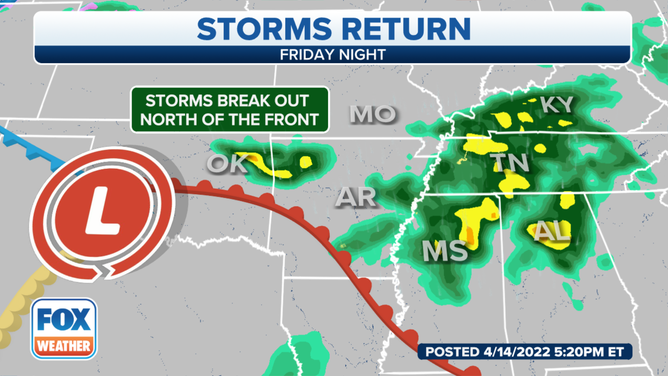 The National Weather Service in Huntsville said scattered strong to marginally severe thunderstorms are possible with likely damaging winds, hail up to the size of quarters and heavy rainfall.