2 dead as cars plunge from Mississippi highway washed out from Hurricane Ida rains
As much as 8 inches of rain fell in the region from Hurricane Ida, washing out busy Highway 26 in the dark and leaving seven cars to plunge into gaping hole.
LUCEDALE, Miss. -- Two people were killed and 10 others were injured when heavy rains from the remnants of Hurricane Ida washed out a busy highway in southern Mississippi Monday night, sending several cars plunging into a massive hole in the darkness. 
"When troopers arrived on scene…they found seven vehicles in the washout," Mississippi Highway Patrol Trooper Cal Robertson told FOX Weather. "In those seven vehicles we had 10 injuries -- three of those were critical -- and two fatalities total."
Two of those seriously injured were the wife and daughter of Danial Williams. 
"Around 10:45 (p.m.) my daughter called freaking out, saying the road had collapsed," Williams said. "She said she had seen a gas can in the road, then after that, she saw a hole, and she blacked out. She woke up and was able to call me after she called 911 to get help."
The crashes occurred along an unlit portion of Highway 26 -- a main east-west corridor in the region that carries 3,100 to 5,700 vehicles a day, according to the Associated Press, quoting Mississippi Department of Transportation data.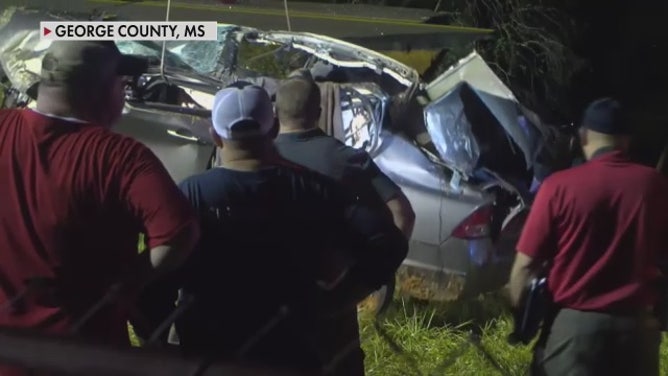 In addition to the darkness, heavy rains continued to fall Monday night, adding to the 8 inches of rain that fell in the area during Ida, according to the National Weather Service.
"It was real heavy rain, and we've had torrential rain over the last 24 hours because of Hurricane Ida," Robertson said. "You know, at night with a lot of rainfall, it's very hard to see. So I don't know what the driver saw from their point of view, but it would have been dramatic."
☔️315am - Starting to become more concerned about the threat for flash flooding this morning as the rainband slowly moves across the coastal counties. pic.twitter.com/MZ2mVrMhYx

— NWS Mobile (@NWSMobile) August 31, 2021
Emergency managers said it would have been as if they were all involved in head-on crashes at 55-60 mph. 
Williams said his daughter was in surgery Tuesday morning for a broken leg, torn colon and broken wrist. His wife was in a Hattiesburg hospital for a broken leg, broken jaw and injured back.   She had just driven that same stretch of road 10 minutes prior to the crash and was returning home when the road collapsed, he said.
"It was horrifying. It was bad. People were still trapped in their vehicles," Williams described as he arrived on the scene Monday night. "They had the Jaws of Life on my truck getting my daughter out. My wife was already out on the stretcher. It's not a sight you ever want to live through."
Robertson credited the community for coming together to help those hurt in the massive crash.
"When we got here, there were a lot of community members out here with a personal equipment offering to help to help these people get out, help to get the cars out," he said. "So this community did pull together real quick and in a bad situation."
A crane was eventually brought to the scene to pull the wreckage from the hole.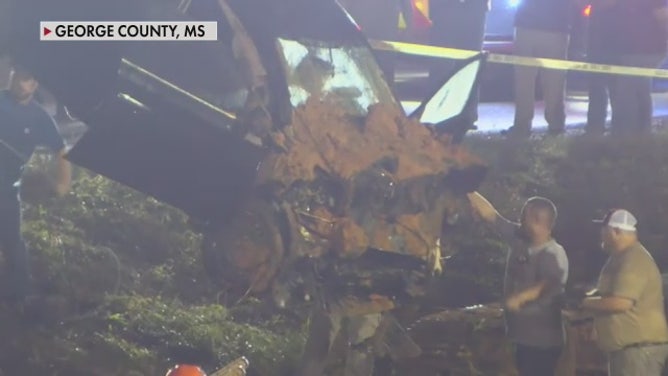 Robertson warned that the highway was going to remain closed for a long time and commuters were going to have to find alternate routes. 
"Engineers are going to have to come out, look at the roadway and see what it's going to take," Robertson said. "We don't have a timeline when the road is going to be back open."  Troopers were working to set up alternate routes Tuesday.
"But it's going to be an inconvenience for some time for a lot of people."
Drier weather was on the way for the Gulf Coast as the remnants of Ida moved into the mid-Atlantic states this week.