1 dead, more than 1 million without power as Ida batters Gulf Coast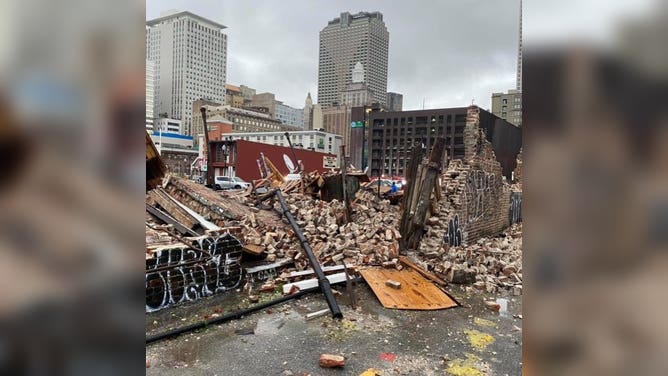 After a weekend wreaking havoc on southeastern Louisiana with maximum sustained winds of 150 mph, Hurricane Ida was downgraded to a Tropical Storm. But as Monday began, Ida's catastrophic impact became more apparent.

In a video posted on Monday morning, Louisiana Governor John Bel Edwards said that the recovery effort "is going to be a very long ordeal" but that "we are going to get through this". 
On Sunday night, Governor Edwards received approval from President Biden for a Presidential Major Disaster Declaration, which will aid in recovery efforts after the storm.

The Governor stated, "I am extremely grateful to Pres. Biden for his swift response to my request. This will be critical to our response to the recovery from Hurricane Ida which has proven to be as dangerous as we anticipated."

Damage to Infrastructure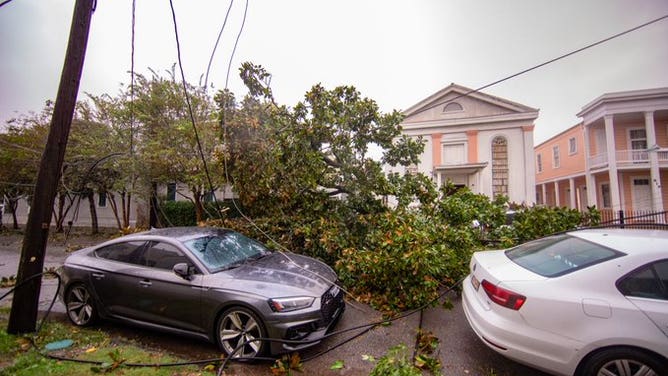 Roads are blocked by flooding, fallen trees, downed power lines and other debris, along with multiple car crashes. The Louisiana State Police has advised people to remain off the roads and to stay at home. Louisiana Department of Transportation and Development crews have blocked off certain locations "out of an abundance of caution". 
Drivers are also being asked to remain off of levies, which are the only routes available for emergency crews.

As of Monday morning, over 1 million people were without power in the state of Louisiana. In a video posted on Sunday of New Orleans Mayor LaToya Cantrell and New Orleans Chief Shaun Ferguson, the Mayor stated that the city lost power and encouraged people to stay indoors. Chief Ferguson stated "because we are without power, we need to be vigilant".
Just wanted to give you all another update. This time around, I'm joined by NOPD Chief Shaun Ferguson💙💯

We have now lost power, citywide! This is the time to continue to remain in your safe places. It isn't a time to venture out!!

We will get through this together! 💪⚜️ pic.twitter.com/NBoD2HY07J

— Mayor LaToya Cantrell (@mayorcantrell) August 30, 2021
Because of power outages, several 9-1-1 centers are currently down and unable to assist in rescue efforts. 

Missing persons
On early Monday morning, over 1,600 personnel have been deployed to conduct search and rescue efforts in Louisiana. 
Sunday night, the Ascension Parish Sheriff's Office and Louisiana Department of Health confirmed the first death caused by Hurricane Ida. A 60-year-old man in Ascension Parish, which lies west of New Orleans, was killed by a tree that had fallen on his home.

The future for Ida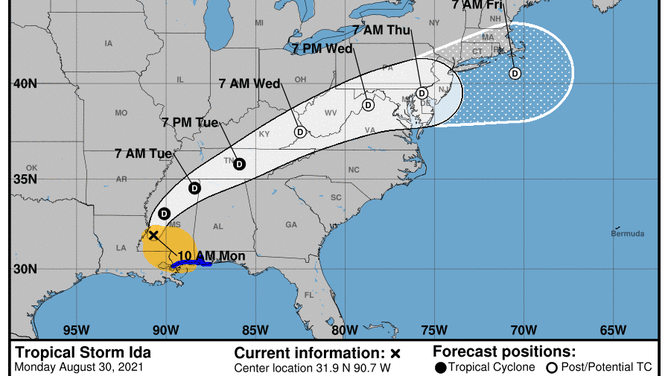 On Sunday afternoon, Ida made landfall as a category 4 hurricane near Port Fourchon on the southeastern coast of Louisiana. 

On Monday morning, Ida was downgraded to a Tropical Storm, but it still poses a great danger for many.

Rainfall from Ida is leading to Flash Flood threats over much of Mississippi, Alabama and the western Florida panhandle. 

Storm surge warnings are also in effect from the mouth of the Pearl River to the Alabama/Florida border. 

Ida is currently moving northward at about 9 mph and will continue do so throughout the day. Its maximum sustained winds are measured at about 40 mph.

Starting tonight, Ida will move in a more northeasterly direction, moving across the Tennessee Valley on Tuesday and near the central Appalachians on Wednesday.