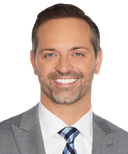 Nick Kosir
FOX Weather Meteorologist
Nick Kosir joined FOX Weather in 2021 where he currently serves as an evening co-host on the ad-supported streaming weather service. 
Prior to joining the platform, Kosir served as the morning meteorologist for FOX affiliate WJZY-TV's Good Day Charlotte newscast in Charlotte, N.C. In this capacity, he delivered weather reports as well as covered major events such as Tropical Storm Isaias. Prior to his time in Charlotte, Kosir worked at KBTV-TV, the FOX affiliated station in Beaumont, Texas and KMVT-TV, the CBS/CW affiliate in Twin Falls, Idaho.  
With more than 2 million followers across both TikTok and Instagram, Kosir, also known as "The Dancing Weatherman," has gained notoriety beyond his weather reporting as his viral dancing videos have become a pop culture phenomenon — one of which was featured in Lil Nas X's open at the 2019 MTV Video Music Awards. 
A graduate from the University of Akron in 2005 with a bachelor's degree in Business and Organizational Communications, Kosir completed his Meteorology certification at Mississippi State University in 2010. He lives outside New York City with his wife and son.