Watch: Raging Colorado rapids toss woman from raft into cold river
Record snowfall is now melting and has topped off rivers across Colorado. A rafting tour operator says some rapids are moving in the Class 4-Class 5 range.
ROYAL GORGE, Colo. – There were some scary moments for a tourist over the holiday weekend after she was thrown from her raft into whitewater rapids, and another rafter who was wearing a GoPro camera caught the rescue on video.
Record snowfall across the West this past winter has meant incredible runoff into rivers. The water is running high on the Arkansas River in Colorado, and a rafting tour operator told FOX 31 the rapids are moving in Class 4-Class 5 (expert) range.
"When we went into that falls, we hit pretty hard, and she bumped into me and fell off to the side," said fellow rafter-turned-rescuer Chris Dean. "I was pretty scared for her because I knew it was rough, and I don't want to be in the water either, so it was scary, I think, for everyone." 
In the video, the guides on the raft can be heard quickly yelling instructions to the woman being swept down the swift river between boulders in the water and the rocky bank. She was wearing her required life vest and followed directions to pull her feet to the surface and point them downstream.
"It was pretty intense for me, but I just had to react and get her out the best we could," Dean said. "Everyone was working together on the raft. The guide was giving us direction too. They prepare you the whole time on the bus ride to get on the raft and make sure everyone's gear is on correctly."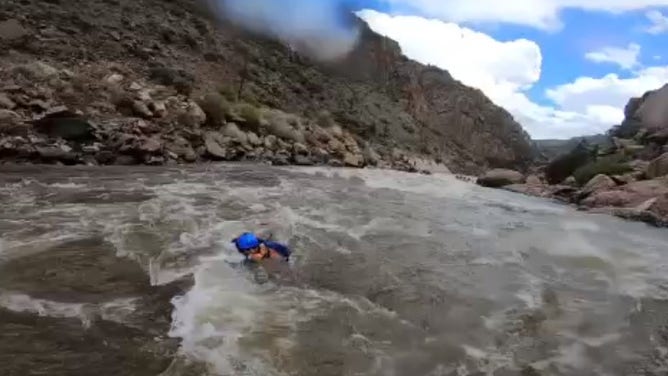 The video showed Dean eventually pulling the chilly woman to safety in the raft.
Jim Crane, operations manager of Performance Tours, said that it is rare on their trips for tourists to get thrown into the water.
"We put them (guides) through every scenario that would happen," Crane said. "We spend a lot of time in really cold water. Our goal is never to scare someone from being a river guide but to prepare them for those high-stress situations."
The woman was uninjured despite the wild ride.