8-year-old's lucky message in a bottle found 10 years later at Australian beach
Ines Zepcan was only 8 years old at the time when she and her siblings sent the bottle off a pier in Portland, Victoria. She said the discovery has brought back lots of memories.
VICTORIA, Australia – It only took 10 years, but a little girl's message in a bottle she threw into the ocean in Australia has been found.
Ines Zepcan was only 8 years old when she and her siblings sent the bottle off a pier in Portland, Victoria.
Her message was simple and sweet, "Whoever finds this bottle will have good luck for life, from me and my family."
Rosalind Evans, a beachcomber with Warrnambool's Beach Patrol 3280, was excited after she found the intact yet battered plastic bottle at Fitzroy River estuary during a March 25th cleanup. The group searched for Zepcan on social media and sent her a message.
BOTTLE FULL OF MESSAGES WASHES ASHORE ON A FLORIDA BEACH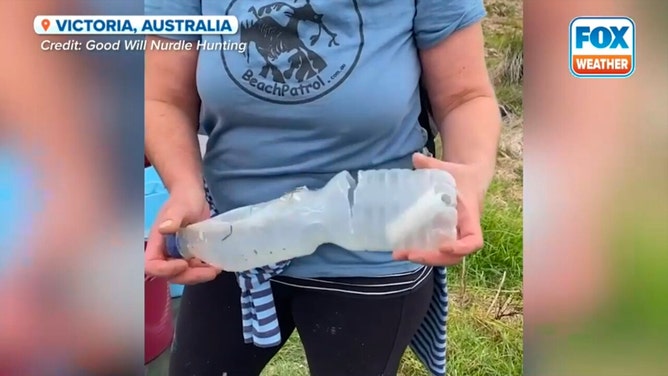 "Hello Ines, have you ever (written) a message in a bottle? We found one with your name on it, but it could be another Ines Zepcan," the direct Instagram message read.
Zepcan, now 18, replied and said she saw a video about the bottle discovery and confirmed the email address written on the back of a Ferrero Rocher package along with her message.
"I'm sorry we couldn't send a million pounds along with the message," Zepcan joked. "But I'm so glad you guys reached out.
She said the finding of the plastic bottle has brought back a lot of memories for her and her family. She admitted, however, that she could've made a more environmentally-friendly choice for the vessel in which she placed the message.
HISTORICAL TRUNK WASHES ASHORE ON FLORIDA BEACH AFTER HURRICANE NICOLE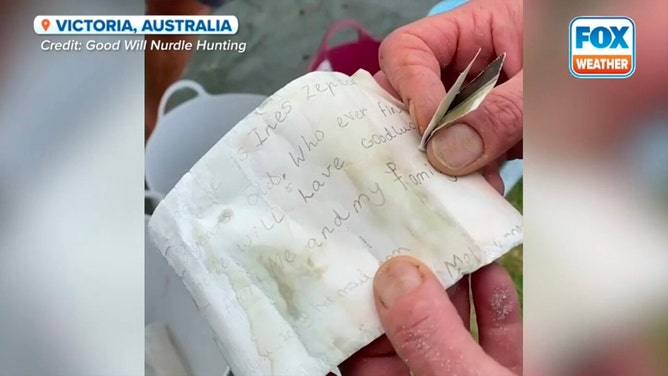 "I think I might have some cleaning up to do," she added. 
Volunteers now can say with certainty that the bottle was floating in the ocean for more than 10 years, traveling at least 50 miles from Portland to Warrnambool.
The group of 22 beach patrol volunteers removed 262 pounds of rubbish the day the bottle was found. Much of it was microplastics that added up to 4,158 items.
According to the World Wildlife Foundation Australia, the country produces almost 3.3 million tons of plastic annually, of which less than 12% is recycled. Up to 143,300 tons of that plastic will wind up in the ocean as plastic pollution each year. 
The agency estimates plastic bottles and cups take 450 years to break down. The chemical bonds of plastic cups make them durable but also resistant to breaking down. Over time, these cups release toxic chemicals into the environment and are more likely to be ingested by vulnerable marine wildlife.