Super Bowl LVI: Recent history shows heat will benefit LA Rams more than Cincinnati Bengals
Over the last three seasons, the Rams have boosted a record of 27-14 when playing in games with the forecasted temperature
This year's Super Bowl at SoFi Stadium in Inglewood, CA, between the Los Angeles Rams and Cincinnati Bengals, could be the hottest ever. 
The first-ever February Heat Advisory for the Los Angeles metro area is in effect until 6 p.m. Pacific time Sunday. High temperatures are expected to reach 85 to 90 degrees across much of Southern California each day through Super Bowl Sunday.
Kickoff is scheduled for 3:30 p.m. Pacific (6:30 p.m. Eastern) on Sunday, and the temperature outside SoFi Stadium is predicted to be 83 degrees when the game gets underway.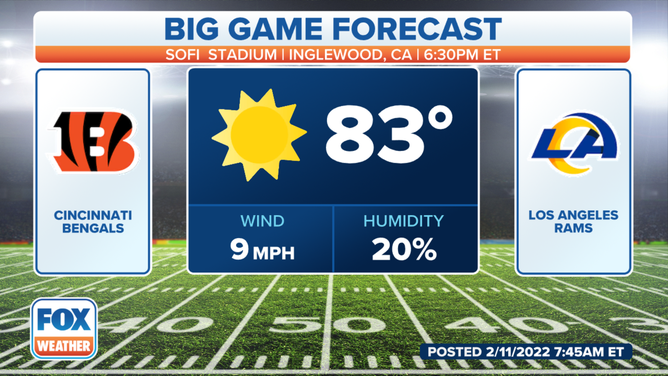 SUPER BOWL LVI IN LOS ANGELES MIGHT BE HOTTEST BIG GAME ON RECORD
Due to these unusually hot temperatures for February, the National Weather Service has posted a Heat Advisory from 11 a.m. Wednesday through 6 p.m. Sunday for portions of Southern California, including the Los Angeles metro area – home of Super Bowl LVI on Sunday.
The Big Game Hottest Kickoff Temperatures
However, this would not be the first time a Super Bowl took place during extreme heat. 
According to the Pro Football Hall of Fame, Super Bowl VII between the Miami Dolphins and Washington had a game-time temperature of 84 degrees outside the L.A. Memorial Coliseum on Jan. 14, 1973.
The next warmest Super Bowl was played on Jan. 26, 2003, at Qualcomm Stadium in San Diego, CA, where the game-time temperature was 81 degrees. 
After those two, there were a host of Super Bowls with game-time temperatures at 76 degrees.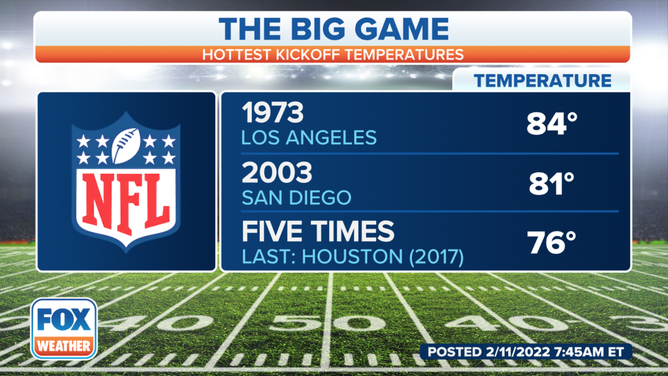 SUPER BOWL LVI: SOFI STADIUM MAY HAVE A ROOF, BUT MOTHER NATURE FOUND ITS FLAW
How The Teams Fare In These Weather Conditions
Now, the big question is how will this extreme heat affect both teams, if at all. 
SportsWeather founder, Mark Maxwell, said he expects the heat will have more of an impact on the practices leading up to the Big Game on Sunday. 
"The heatwave will impact both teams' practice this week by requiring players to consume more fluids than usual for hydration purposes. The above-normal temperatures should help both teams with improved stamina/endurance, which will result in better physical conditioning for Sunday's big game," said Maxwell.
Los Angeles Rams head coach Sean McVay moved the Rams practice earlier in the week from SoFi Stadium to the Rose Bowl Stadium in Pasadena, California, because it was so hot. And Cincinnati had been practicing in an indoor facility to get more accustomed to playing inside before they left for LA. 
Kevin Roth, Chief Meteorologist at RotoGrinders, said he didn't expect the heat to really have a profound impact on either team, but that heat exhaustion could have more of an impact on the defensive players. 
Former NFL player Roman Harper, who joined FOX Weather Wild on Thursday, said hydration is key when playing in this type of heat.  
"What you must do is make sure you're hydrating before the game, during the game and all the way through," said Harper. "Especially before the game -- one of the key ingredients is making sure that you're hydrated because you don't want to cramp." 
Super Bowl champion and Hall of Fame quarterback Joe Namath also joined FOX Weather to discuss Sunday's big game. Namath doesn't think the LA heat advisory will affect either team.
"These guys are all in great condition. I don't think the weather's going to be a negative factor for either one of them," said Namath.
Now, thanks to SportsWeather, which has its own metrics system that compiles historical game-time weather data and meshes it against both NFL teams and player historical performance, we can get a glimpse at how both teams have played over the years in these conditions. 
The feels-like temperature is expected to be 79 degrees in Inglewood at kickoff, and over the last 14 seasons, when that happens the Rams are 36-39-1 in those games, while the Bengals are 53-51-3. However, over the last three seasons, the Rams have boosted a pretty good record of 27-14, while the Bengals haven't performed too well, with a 6-19-1 record. 
While the temperature is the only weather factor that may impact the game, based on recent history, that could play to the Rams advantage.