Don't hold the guac: California's avocado industry poised to take advantage of winter's historic rains
The Hass Avocado Board estimated the fruit's industry is worth $7 billion. California annually produces around 86 percent of the crop, with Florida and Hawaii coming in a distant second and third. The most popular day for guacamole is undoubtedly Super Bowl Sunday.
IRVINE, Calif. – A Super Bowl party mainstay that nearly every fan can get behind is poised to take advantage of California's decreasing drought despite early predictions that crop output may come in below the previous season's totals.
The California Avocado Commission recently announced it's expecting a crop harvest of 257 million pounds of avocados during the 2022-23 fiscal year, which is a drop of around 7% from the 2021-2022 season.
Central and Southern California are home to nearly 3,000 farms, with many experiencing years of drought and strict water restrictions.
A decrease in the severity of the drought triggered by atmospheric river events that dropped some 32 trillion gallons of water over the state has some hopeful that initial estimates may not capture the full success of farmers.
U.S. Drought Monitor
 
---
WESTERN MONARCH BUTTERFLY POPULATION SUFFERS DUE TO ATMOSPHERIC RIVER STORMS
"The recent California rainfall has been welcomed by our growers throughout all districts," Jeff Oberman, president of CAC, said in a statement. "Growers have related increased sizing and crucial replenishing of water sources, during my recent visits to all production regions. We do not yet know if there will be any change to the expected harvest timing, however excitement is building from our retail partners for the kick-off of the California season."
Even with more conducive weather, the country is not in a position to produce enough products for domestic needs, thanks to the fruit's steadily increasing popularity.
The U.S. Department of Agriculture reports that imports, mostly from Mexico, accounted for 90% of the domestic supply and topped $2.8 billion in 2021.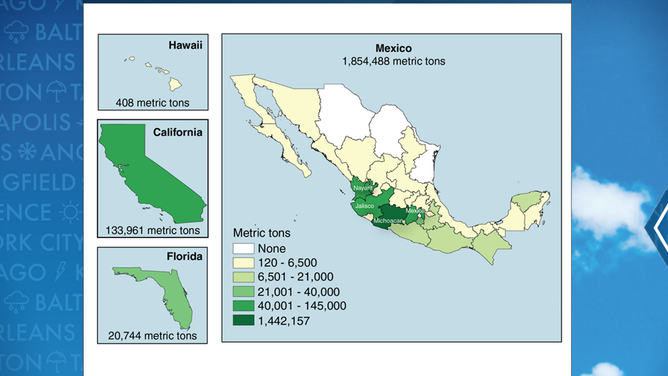 A major limitation on where avocado farmers set up shop is the weather. Agricultural specialists say the trees tend to do well in warm climates with sufficient moisture, which limits large parts of the country from taking part in growing operations.
According to USDA data, the Golden State annually produces around 86% of the crop, with Florida and Hawaii coming in a distant second and third.
HURRICANE HUNTERS' WINTER STORM RECONNAISSANCE WELL UNDERWAY OFF WEST COAST
There is believed to be over 500 varieties of avocado, with Hass being the most popular due to its flavor, texture and domestic production.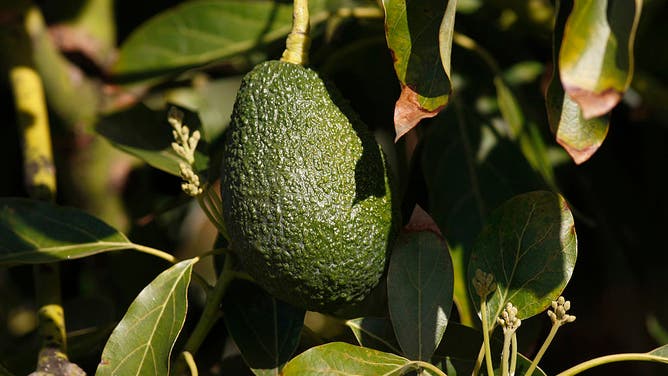 The California Avocado Commission estimated that the popular variety accounts for around 95% of the volume.
"A key reason growers and shippers favor the Hass avocado variety is that it ships very well and arrives to customers in good condition compared to green skin varieties that were more popular decades ago," said a spokesperson for the CAC. "Another reason retailers and food service operators like the Hass variety is that it can be ripened to their specifications."
Industry experts believe because of time constraints and market conditions, larger avocados will generally not be ready for Super Bowl celebrations, but as harvesting gets underway during the spring and summer, product availability is expected to ramp up. 
Business analysts report prices for Hass avocado reached a 24-year-high in 2022 due to an increase in worldwide demand, inflation and supply chain disruptions. But prices have steadily declined due in part to the lifting of some restrictions on Mexican imports.