Sore from shoveling snow? Here's what you should do
All it takes is a handful of at-home exercises to prime your body for the next big storm.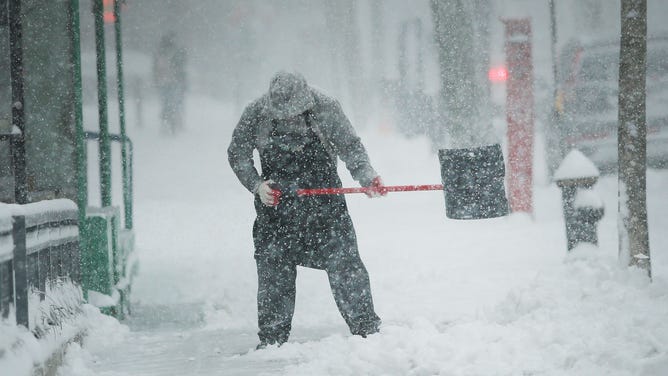 If you're among the legions who had to dig out from the weekend blizzard, or you are still digging out from the winter storm, there's a good chance your body's feeling it now. But, if you prepare physically you don't have to be hurting after hitting the driveway.
BLIZZARD OF '22: NEWS FROM THE WEEKEND NOR'EASTER YOU MAY HAVE MISSED
"It's like doing your homework for a big exam," said Anthony Bland, a sports performance coach with a background in adult fitness. "You're just more prepared for test day."
'IT'S JUST INSANE OUT HERE': A LOOK AT THE WINTER STORM DUMPING SNOW, ICE ACROSS THE US
To prevent soreness, you want to engage and strengthen muscles in the legs, back, core and arms before it's time to hit the driveway. 
"Otherwise, you place a demand on your body that it wasn't used to doing," Bland said.
MEDICAL EXPERTS WARN SHOVELING SNOW CAN BE DANGEROUS TO YOUR HEALTH
He suggested the following at-home exercise routine. There's no equipment needed. Do three sets of about ten repetitions, two to three times per week for three to four weeks and you'll be clearing the pavement in record time without soreness in the days after.
Split squat with rotation
This exercise not only hits the legs and glutes. The rotation engages the core muscles used for throwing a shovel full of snow. This move also helps with balance. 
When doing this exercise keep your front foot flat on the ground. Balance on the toe of the back foot. Keep your upper body relatively upright. Drop the back knee as low to the ground as possible while rotating outward past the front leg.
Lateral squat with reach
This exercise concentrates on the legs as well. The side-to-side motion hits the hips, inner thigh and groin area. It's important because the motion of shoveling is not just in one plane.
Take a wide stance with both feet relatively straight. They can turn out a little. Sit your bottom back as you bend one knee. The opposite leg stays straight. Keep both feet completely on the ground. Make sure your shoulders don't sway over your hips. Then alternate sides.
Glute bridge march
This exercise will engage the hamstrings, glutes and core. It strengthens the muscles needed for a shoveling motion. It will also help when it comes time to pick things up off the ground.
Lie on the ground with your knees bent. Begin by raising your lower back, making sure not to hyperextend it. Squeeze your butt. Then slowly lift one leg off the ground. Make sure your hips remain even and hold them in the same place the entire time. Alternate legs. The farther you place your feet from the rest of your body, the harder the exercise.
Plank
This motion is all about the core, which is everything around the midsection. Strengthen these muscles to keep your lower back safe. That in turn will help maintain the right position for your spine.
Form a relatively straight line from your head to your tailbone. Actively tense your stomach like someone's going to hit you. Squeeze your butt muscles as hard as you can. Keep your shoulders over your elbows. Make sure to maintain the proper form. Hold the position as long as you can. For most people, this will be between 20 and 60 seconds.
Anthony Bland is a professional and collegiate strength and conditioning coach with a B.A. in Adult Fitness.