Sleeping under stars will cost more at state parks as camping grows in popularity
Many state park departments have seen the need to increase campsite and lodging fees to offset daily operational costs and funding for maintenance and repairs.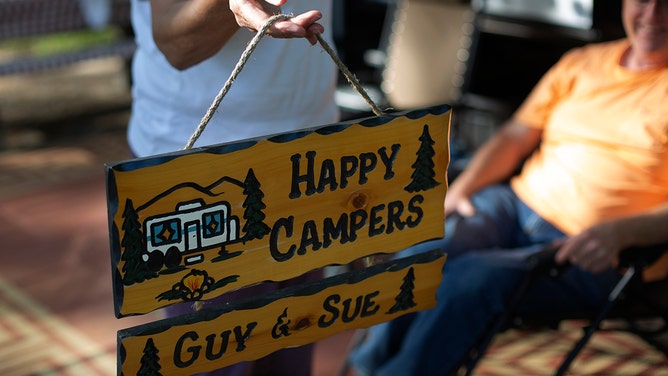 DETROIT, Mich. – The next time your family vacation leads to sleep under the stars, it could become more expensive than it was 20 years ago. 
First-time campers across the United States grew five-fold compared to 2019, while the number of households that own RVs grew by 2.6 million, according to the latest research from Kampgrounds of America's annual North American Camping Report. 
"More than 80% of campers changed their camping habits last year – including working and schooling from the campground, turning to RVs for travel safety and security, and adding more weekdays to their trips – which, coupled with the influx of first-time campers, solidifies that many Americans turned to camping and the outdoors to make it through a challenging year," said Toby O'Rourke, president and CEO of KOA.
UNCONVENTIONAL THANKSGIVING: RVS AND 'TRASH CAN TURKEY'
While camping had been steadily growing in popularity prior to the pandemic, KOA attributes COVID-19 to be a key driver behind the influx, including the 10.1 million households who camped for the first time in 2020 as a safe way to travel and avoid crowds. 
Because of this, many state park departments saw the need to increase campsite and lodging fees to offset daily operational costs and funding for maintenance and repairs.
For the first time in four years, Michigan raised its rates to help ensure adequate aid for the 101-year-old state parks system. The Michigan Department of Natural Resources said the fees account for 51% of the money used to operate state parks. Since 2019, park attendance has grown from an estimated 28 million to more than 35 million visitors, the department said. The 30% surge has added to daily operational costs and funding for maintenance and repairs.
Starting Nov. 1, the cost for state park campsites will increase between $2 and $8 per night, depending on the location and day of the week. Overnight lodging will increase by $10 per night.
'GLAMPING' OFFERS ALTERNATIVE WAY TO EXPERIENCE GREAT OUTDOORS
"As a result of the increased revenue from these new fees, visitors should see enhancements throughout the state park system, including customer service, cleaner parks and restrooms, natural resource stewardship efforts and park amenities such as new fire rings and picnic tables," the department said in a release. "This adjustment will help fund more competitive pay rates for seasonal park workers who play a critical role in serving visitors during the busy summer season."
Currently, there is a backlog of $264 million in capital investments in state parks. Upgrades to water, electrical and sanitary systems, roads and parking lots, and new toilet and shower buildings top the list.
Michigan Gov. Gretchen Whitmer is seeking proposed funding to help in the modernization. If approved by the Legislature, the governor's plan would make $250 million available. The budget would be part of the federal American Rescue Plan.
The same type of increase has been reported across the United States.
The Iowa Department of Natural Resources raised their camping fees for the first time in more than 20 years. In Idaho, state officials doubled their prices for out-of-state visitors to some of their busier state parks.