Classic football weather expected for Panthers vs Giants game
The weather won't have much of an impact on the game as a ridge of high pressure briefly builds in.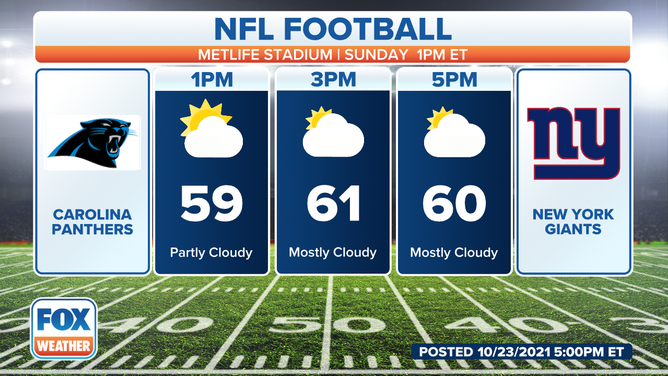 EAST RUTHERFORD, NJ – It'll be a battle of who wants to remain out of the NFC cellar at MetLife Stadium as the Panthers take on the Giants in some classic fall weather.

The game kicks off on FOX at 1 p.m. EDT.

FOX Weather meteorologists say a ridge of high pressure will briefly be in control on Sunday, allowing temperatures to reach 60 degrees, during the game.

Spectators won't have to worry about bringing ponchos either. Skies are expected to remain partly to mostly cloudy, with a breeze of about 10 mph.

WEEK 7 FOX NFL PICKS

Even though the Panthers lead the series 6-4, FOX Weather Meteorologist Jason Frazer is still rooting on his home team to put an end to ended losing streak.

Frazer is a Queens native and is lifelong Giants fan. 

You can watch Frazer and Britta Merwin every weekday morning on FOX Weather.