The New York City Triathlon has a complicated history with the Hudson River
From bacteria to currents to the sun in their eyes, triathletes have to be prepared for anything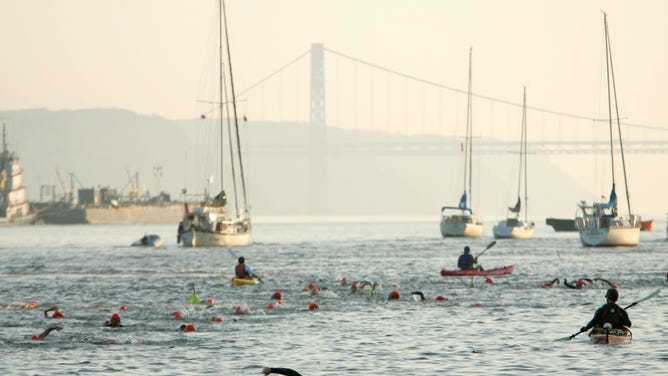 NEW YORK - Triathlons are among the most vigorous amateur athletic disciplines, requiring expertise in swimming, biking, and running. 
While the swimming portion of the Verizon New York City Triathlon, owned and produced by Life Time may be the shortest distance, some may consider it the most challenging. 
For those participating in this year's New York City Triathlon on July 24, they are excited to see the race back at full force, but the swimming portion of the race has had its fair share of problems in the past. 
HOW TO WATCH FOX WEATHER ON TV
Water quality of the Hudson River 
Just last year, the swimming portion of the NYC Triathlon had to be cut out as a result of Tropical Storm Elsa. High levels of bacteria linked to the storm were found in the Hudson River. 
A nonprofit called Riverkeeper has worked with volunteers and partners, including Columbia Climate School's Lamont-Doherty Earth Observatory, to take samples of the Hudson across a 150-mile span providing data on water quality, including whether it's safe to swim in based on the Environmental Protection Agency guidelines. 
RESTORING HUDSON RIVER ECOSYSTEMS IS ESSENTIAL TO CONTINUE DOLPHIN AND WHALE SIGHTINGS
Where and when the river is safe for swimming depends on a few factors, but one of the biggest is rainfall or storm runoff. Across the 74 locations where samples are taken, Riverkeeper co-director of science and patrol Dan Shapley said the data doesn't show a lot of positive or negative trends. Most changes they see are from the weather.
Shapley said after several inches of rain, Riverkeeper researchers have seen locations in the Hudson River go from swimmable water quality to unsafe. What's also alarming to those that monitor the Hudson is the increasing frequency of weather events from leftover tropical cyclones or bursts of heavy rain.
For this year's race, the NYC Triathlon's website said the Hudson River is the cleanest it has been in 30 years and is considered bathing and recreation quality. The Department of Environmental Protection monitors the testing on a weekly basis in the Hudson River to ensure the water meets the Triathlon's strict standards.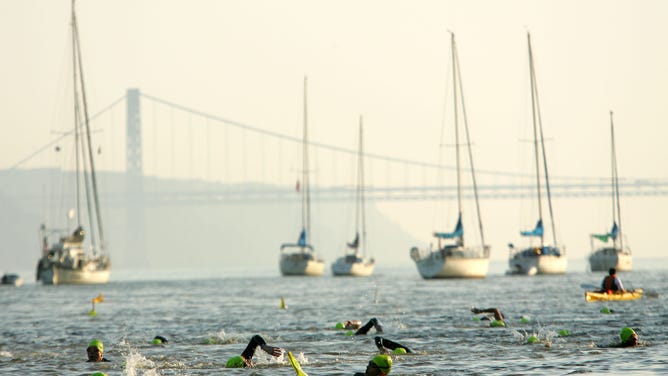 HOW WEATHER CAN HELP OR HURT ATHLETES COMPETING IN THE NEW YORK CITY TRIATHLON
An athlete's preparation
Alison Kreideweis, co-founder and head coach for Empire Tri Club, has coached the NYC Triathlon for 10+ years and participated in the event for at least six years. 
She said most athletes will do the bulk of their training in a pool since swimming in open water is not always easily accessible and possible to do on a regular basis. 
However, she stated it is important to get in a few open water swims before race day, whether that be in a river, lake or ocean.  
When it comes to preferred swimming conditions for the competitors, Kreideweis said athletes are always hoping for a strong current on race day, because a stronger current means a faster and easier swim.
"There is a running joke each year about how long it takes the Dorito bag to do the 'NYC Tri Swim' because with a strong current you can just float down the river," stated Kreideweis. 
What makes the swimming portion so challenging, according to Kreideweis, is that it involves a lot of technique. 
"You can't just muscle through it or rely solely on athletic ability like you can with other sports," said Kreideweis. "It's particularly challenging for athletes who did not learn to swim as a kid or receive any proper coaching or lessons because it's a lot harder to learn those skills (and overcome fears) as an adult."
Additionally, Kreideweis said a triathlon swim is very different from swimming in a pool. So the water is going to be dark and salty, there are sometimes waves and currents or the sun shining in your eyes, and you're getting bumped into by other swimmers. It's hard to mimic these conditions on your own, which makes it difficult to prepare for. 
CLICK HERE TO GET THE FOX WEATHER UPDATE PODCAST

If you're headed to the NYC Triathlon this year, be sure to download the free FOX Weather app. There you can keep track of current conditions and receive important weather alerts if any are issued in your area.
The free FOX Weather livestream is also available 24/7 on the website and app and on your favorite streaming platform. The FOX Weather Update podcast also provides weather information for the entire country.