Hanukkah forecast: Beautiful evening for National Menorah lighting ceremony
Temperatures in Washington D.C. during the ceremony will be near 50 degrees.
WASHINGTON – Sunday evening marks the beginning of Hanukkah, and people will gather from across the country at the annual lighting ceremony of the National Menorah, in Washington, D.C.
Hanukkah, also known as the Festival of Lights, started after the Jews fought to reclaim the Holy Temple in Jerusalem. They found only one day's worth of olive oil to use for the daily menorah lighting. Miraculously, that small amount of oil burned for eight straight days. 
Since then, Jewish people around the world celebrate Hanukkah and the tradition of lighting a menorah each night for eight days. 
The annual lighting ceremony of the National Chanukah Menorah will take place on the Ellipse, just across from the White House. It will be viewed by tens of millions across the nation and around the world.
The event is said to help launch and strengthen the celebration of "Chanukah – Festival of Lights" in all 50 states and over 100 countries globally.
Temperatures in Washington D.C. during the lighting event are expected to be in the middle 50s, under partly cloudy skies. The sun is slated to set at 4:47 p.m. on Sunday.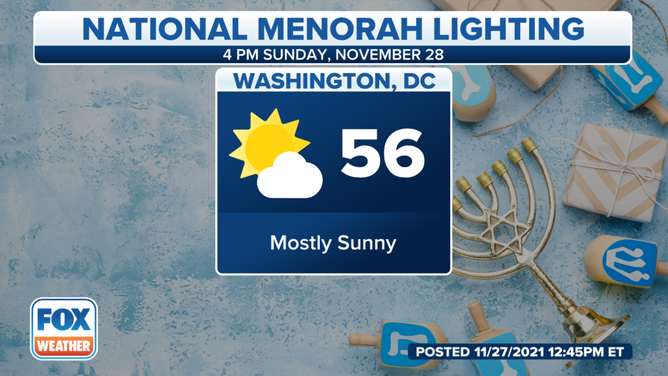 Some areas of the country won't be as fortunate with the weather for the start of Hanukkah. Snow and much colder temperatures won't be too far off from the nation's capital. The eastern Great Lakes and parts of the Northeast will see frozen precipitation.
Areas along the western Gulf Coast will also see precipitation, but it will fall in the form of rain. Temperatures will in the 60s in Texas.
The stormy pattern will continue in the Pacific Northwest, with rain likely in Seattle.