FOX meteorologist trades in weather wall for ice wall
Adam Klotz hit the ice Thursday when he scaled an ice wall for the very first time.
LAKE CITY, Colo. – FOX meteorologist Adam Klotz traded his weather wall in on Thursday for an 110-foot ice wall, and he took viewers along for the climb.
"When I first walked up, it took my breath away. I had no idea the vastness of this wall," Klotz said. "I'd seen pictures, but this is big."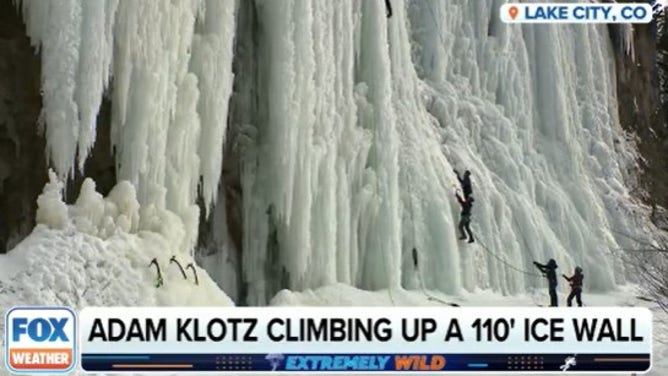 While advanced climbers set their own screws into the ice to secure a safety line, Klotz used a pre-hung line with expert JT Stratton just feet away.
With an ice pick in each hand and cleated crampons on his shoes, Klotz used arm, leg and core strength to climb the wall during FOX Weather's "Weather Wild."
"Oh, it's tiring," Klotz said clinging to the wall. "You know, like really tiring. It's not scary, just tiring."
The temperature was around 50 degrees which is warm for ice climbing. The ice was soft and crumbled and the melting ice soaked Klotz.
"Ice climbing first started here in 2005 by a community group who wanted to do it, and it's grown ever since," said Kate Hopson, Lake City Marketing Consultant. "The town of Lake City took over several years ago, and it's really just expanded since then."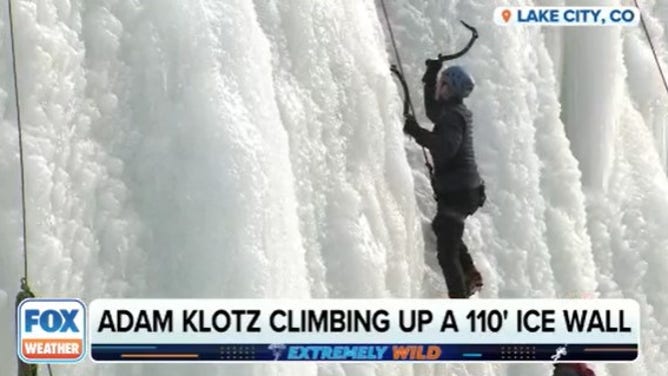 The town mounted shower heads at the top of the cliff and lets them run during the night to create the faux waterfalls. In all, the park created over 40 routes. 
"I believe that this ice was one of the best things that's happened to our town in recent years," said Stratton. "And so it's attracting more business in the winter season, whereas normally we don't see too many people visiting."