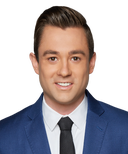 Adam Klotz
Meteorologist at Fox News Channel
Adam Klotz currently serves as a meteorologist for FOX News Channel and FOX Business Network. He is based in New York City and joined the network in January 2017.
In this role, Klotz reports on the latest weather news across the country. In March 2017, he provided coverage of winter storm Stella live from New York City.
Prior to joining FNC, Klotz served as a weekend meteorologist and multimedia journalist for Fox 5 in Atlanta, Georgia. He received a B.A. in Broadcast Journalism.