Here's how much a James Webb Space Telescope stamp will cost you
The James Webb Space Telescope launched on December 25, 2021 and has already provided stunning images
WASHINGTON, D.C. – A telescope already making history by revealing giant nebulas and galaxies dancing in the cosmos will soon be on a stamp that all can enjoy back here on Earth for the mere price of only 60 cents.
The United States Postal Service announced Tuesday that the James Webb Space Telescope Forever stamp will go into preorder beginning August 8.
The awe-inspiring stamp depicts the telescope's gold-coated mirror segments that form the 21-foot-wide lens.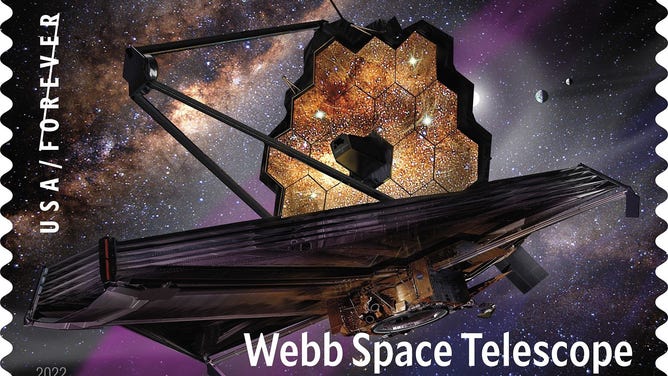 NASA says the satellite's large sunshield helps protect the telescope from light and heat from the sun and Earth.
HOW TO WATCH FOX WEATHER ON TV
The $10 billion multinational telescope launched on Christmas Day 2021, and just within the past couple of weeks, NASA released its first images.
Stunning photos showed the development of stars and galaxies that are thought to be some 290 million light-years away from Earth.
"It's teeming with galaxies. And that's something that has been true for every image we've gotten with Webb," JWST operations project scientist Jane Rigby said during the highly anticipated release of the images.

JAMES WEBB SPACE TELESCOPE IMAGES WOW BY SHOW STAR NURSERY, GALAXIES IN A COSMIC DANCE
A mission upwards of 10 years will use the telescope to try to answer the age-old question of whether life exists beyond Earth and other cosmic mysteries.
The postal service said the James Webb Space Telescope Forever stamp will be issued in panes of 20 and will be available at Post Office locations and usps.com/stamps.