Holiday star shining brightly again after avalanche sidelines display
The 300-foot-star on Mount Gordon Lyon is visible from the town of Anchorage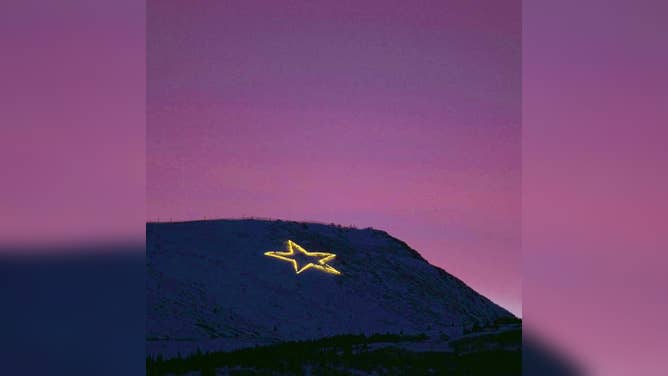 ANCHORAGE, Alaska – A holiday star is once again shining brightly over Alaska's most populous city thanks to the efforts of an engineer squadron with the United States Air Force.

The giant star is usually lit on the day after Thanksgiving, but when crews arrived to prep the 350 lights for this year's holiday season, they found several bulbs damaged from a recent avalanche.
DID ALASKA REALLY RECEIVE 12 FEET OF SNOW IN 2 DAYS?
Media Operations Section Chief Erin Eaton with Joint Base Elmendorf-Richardson said the area saw heavier snow than normal during the fall months, which could have played a role in the avalanche.
Eaton said a crew from the 773 Civil Engineer Squadron braved some harsh winter weather to repair the star and got the display working again on Tuesday, just in time for the annual Christmas tree lighting ceremony.
According to the base, it's not the first time an avalanche has wiped out part of the star.
During the summer, a crew usually ventures up the 4,000-foot climb to repair and replace light bulbs damaged by the mountain's harsh weather.
Eaton said the star will light up nightly until the last musher from the Iditarod crosses the finish line, sometime in the early spring.