Did Alaska really receive 12 feet of snow in 2 days?
Those amounts would have set state and national records for short-term snowfalls
ANCHORAGE, Alaska -- A forecast for 12 feet of snow or more to fall in Alaska's Chugach Mountains over the weekend caused some eyes to widen and jaws to drop, but we'll likely never know if that much snow fell, the National Weather Service said Tuesday.
A potent atmospheric river took aim at south-central Alaska on Friday and lasted through the weekend and into the start of this week.
Computer forecast projections calculating all that moisture gave some incredible NWS forecasts for some of Alaska's highest peaks in the region staring at the brunt of the storm, including more than 144 inches just over the weekend atop Mount Marcus Baker at just over 13,000 feet in elevation.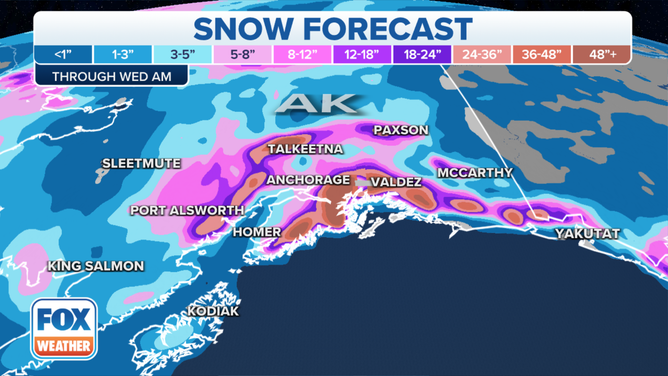 But that location is embedded within a glaciated area of Alaska and not a good point of reference for a precipitation forecast, said meteorologist Joseph Wegman of the NWS office in Anchorage.
He said the forecast values of over 100 inches of snow in two days were more of a theoretical forecast than an actual one.
"The terrain in that area is so harsh in the wintertime that it is impossible to install and maintain equipment that could verify those extreme forecasts," Wegman said. "Thus, if that amount of snow has fallen there, we will never know. The theoretical extreme amounts of snow in the forecast that would fall on the glacier are why the glacier exists."
HOW DO ALASKANS COPE WITH NEARLY ALL-DAY DARKNESS IN WINTER, ALL-NIGHT DAYLIGHT IN SUMMER?
Those theoretical amounts would have set state and national records for short-term snowfalls, but since there is no official measuring station in that location and no record of observations, no amount of snow there could be called a record, Wegman said.
But some rainfall records were broken
While we may never know how much snow fell in those mountains, we do know how much rain fell at their base, and it was quite a bit.
DRENCHED ALASKA: GLACIER NEAR ANCHORAGE GETS 2 FEET OF RAIN SINCE FRIDAY
Portage Glacier Visitor's Center, about 55 miles southeast of Anchorage, set several rainfall records, including 18.84 inches over 48 hours and more than 24 inches from Friday through early Tuesday. Wind gusts hit 89 mph in the region as well.