Tips to safely get your Christmas tree home
AAA provides tips to help safely transport your Christmas tree home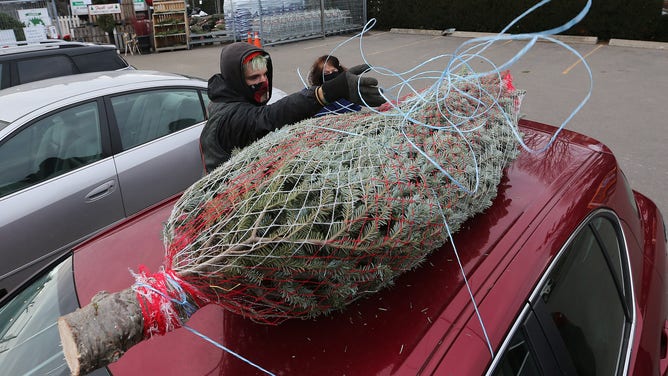 Whether you plan to cut down your own Christmas tree or pick out the perfect one from a lot, getting the tree home is often the biggest struggle. 

If you're like Clark Griswold, the tree is the most important of Christmas symbols, and you can head into the country to embrace the frosty majestic of the winter landscape. So, it would be a shame if that Christmas symbol didn't make it home in one piece. 

MORE: What you need to know if you plan to cut down your own Christmas tree
Taking a tree home is often similar to moving large appliances. If it is not secured correctly, the tree could scratch paint or bend window frames. 

AAA found that 44% of Americans who planned to purchase a real Christmas tree that year admitted to using unsafe methods to transport it home – such as not using the roof rack or placing it in the bed of a pickup truck unsecured.
Not only would losing a tree put a damper on your day, but it could also cause a collision. A loose tree can fly off or out of the vehicle and become a danger to other drivers.
 
AAA says that road debris caused more than 200,000 crashes during four years, resulting in approximately 39,000 injuries and 500 deaths.
Even without the addition of unsecured Christmas trees, roads can be treacherous enough with increased congestion and winter weather conditions.
AAA has provided these tips to help safely transport your Christmas tree home:  
Call the lot ahead of time or check if they've posted information online about availability and COVID protocols. Reports of a nationwide shortage of Christmas trees have caused many people to buy trees as early as possible, limiting inventory.
Make sure to bring strong rope or nylon ratchet straps, an old blanket, gloves and, of course – the right vehicle. One with a roof rack is ideal, but a pickup truck, SUV, van or minivan can work just as well.
Once you've found the perfect tree, have the lot wrap it in netting before loading it. Loose branches can also be secured with rope or twine to help protect the tree from damage.
Before loading the tree, cover the roof with an old blanket to prevent scratches and damage from sticky sap drips.
Place the tree on the roof rack or in the truck's bed with the trunk facing the front of the car. If the vehicle does not have a roof rack and is an SUV, CUV, van or minivan – place the tree inside. If not, rent or borrow a pickup truck, a vehicle with a roof rack or one that is large enough to accommodate the tree inside.
While it is possible to tie a tree to a vehicle that lacks a roof rack by opening the windows and running rope or straps through the interior, it's significantly more challenging to secure the tree properly and require much more rope. Avoid this technique if possible.
Secure the tree at its bottom, center and top using strong rope or nylon ratchet straps. Avoid using the twine offered by many tree lots. Use fixed vehicle tie-down points and loop the rope or strap around the tree trunk above a branch to prevent side-to-side or front-to-rear movement.
Once tied down, give the tree several strong tugs from various angles to ensure it is secured in place and will not come loose.
Drive slowly and take back roads if possible. Higher speeds can create significant airflow that can damage your tree or challenge even the best tie-down methods.