Swimming to beat the heat? Experts warn of hypothermia in still-cold water
Before you take that plunge, experts warn that water temperatures in lakes, oceans and pools can be still cold at the start of the season
When summer and its warm weather arrive, people are ready to dive into the water to cool off.
Before you take that plunge, though, experts warn that water temperatures in lakes, oceans and pools can be still cold at the start of the season, which can cause hypothermia.
HOW TO WATCH FOX WEATHER ON TV
"It's early in the season," said Dr. Audie Liametz, vice chairman of the emergency department at NYU Langone Hospital. "It's not like in August where the temperatures are high 60s, low 70s around this area."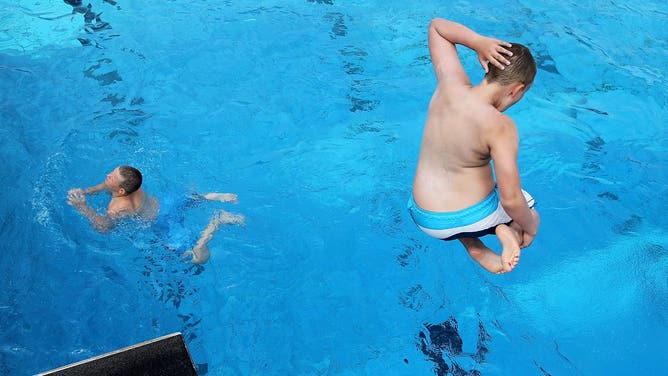 With the heat expected this weekend across parts of the U.S. that haven't experienced summer-like warmth yet, it's important to keep in mind that ocean, nearshore and inland water temperatures remain cold in the 50s to around 60 degrees. When you go into the water to cool off, your body temperature is about 98 degrees. According to Liametz, the colder water will extract some heat from the body relatively quickly, and can lead to different stages of hypothermia.
WHAT IS THE HEAT INDEX AND WHY IS IT IMPORTANT TO YOUR HEALTH?
Physical incapacitation and hypothermia are likely in as little as 10 minutes which can greatly increase the risk of drowning, Liametz said.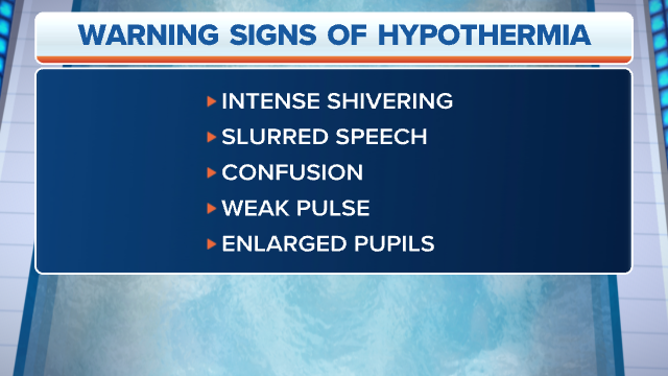 Signs and symptoms of hypothermia
Warning signs of hypothermia include intense shivering, slurred speech and confusion as well as a low pulse and enlarged pupils.
"It can progress from mild hypothermia to moderate hypothermia where you start having alteration in the mental status," Liametz said. "When it gets to very severe hypothermia, you can actually lose the shivering response."
Shivering is your body's response to cold, rapidly contracting and relaxing the muscles to generate heat.
While children want to into the pool to play and have a good time, they may overdo it and may not even realize how severe the hypothermia is getting for them.
PROTECTING YOUR SKIN FROM THE SUN
"This is something that parents have to be concerned with, and also any extremes of age,"  Liametz said.
Older people with underlying medical conditions or on several types of medications can also lose what is called the thermal regulatory mechanisms. 
A warning for parents
Parents should also be extra diligent with kids who might not have taken swim lessons yet this summer. If they flounder in the water, their smaller body mass brings on hypothermia quicker, Liametz said.
Cold water is going to extract heat from the body no matter the body of water whether it's saltwater, freshwater or pool water.
NATIONWIDE LIFEGUARD SHORTAGE COULD SHUTTER A THIRD OF US PUBLIC POOLS THIS SUMMER
If parents see symptoms in children like the fingertips or lips getting blue, that's from facial constriction, according to Liametz.
"The body is trying to conserve heat internally to the core of the body," Liametz said. "So peripherally at the fingers, at the toes, at the lips, you get veins of constriction, and the veins of constriction reduces blood flow to that area, and you can see the discoloration."
CLICK HERE TO GET THE FOX WEATHER UPDATE PODCAST
Stay updated on the latest weather forecast. Download the FOX Weather app to get the forecast for your area, as well as any weather alerts that are issued for your location.