Frigid temperatures favor Packers in Divisional Round matchup with 49ers
Temperatures will be in the single digits around kickoff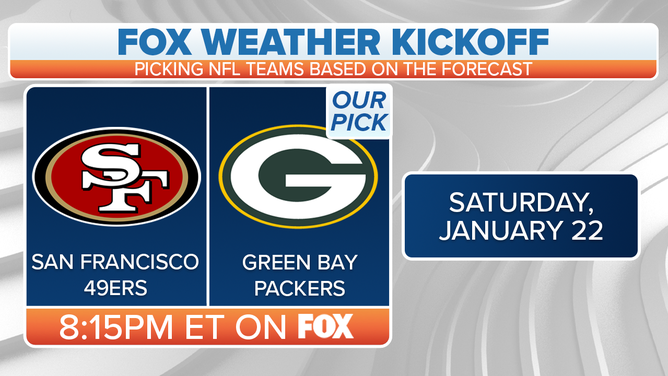 The San Francisco 49ers are heading to Lambeau Field to take on the top-seeded Green Bay Packers in the Divisional Round of the NFL playoffs Saturday night, and it's going to be a cold one. 
Temperatures will be in the single digits around kickoff at 8:15 p.m. Eastern time, with a feels-like temperature of 1 degree. Luckily for the fans, and the players, snow isn't expected to play a factor in this game.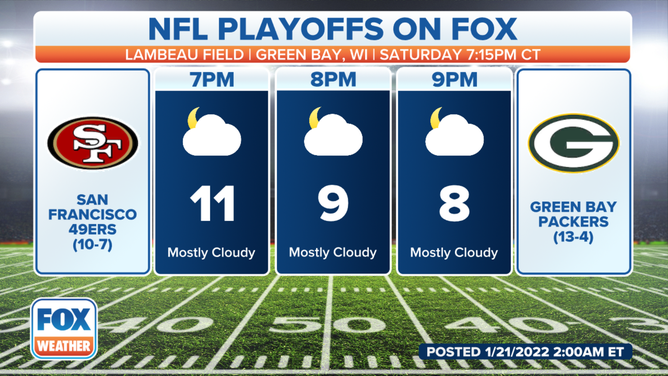 Saturday's Divisional Round matchup will mark the second meeting between the two teams this season, with Green Bay winning the first matchup 30-28 on a last-second field goal. 
Since the Packers are the No. 1 seed in the NFC, they had a bye last week during the Wild Card Round, while the 49ers are coming off a dramatic win against the Dallas Cowboys last Sunday.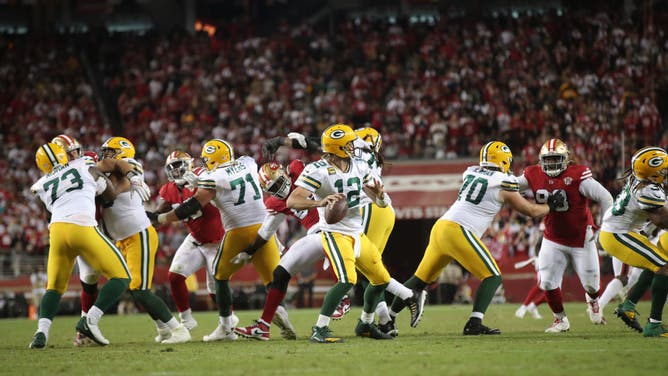 Playing in frigid conditions is never easy, but it may be even more of a challenge to the 49ers because they have not played a game in the last three seasons when the feels-like temperature has been between 0 and 19 degrees. 
However, the Packers over the last three seasons are 5-2 in games when the feels-like temperature was at 1 degree at kickoff. 
Game prediction 
Thanks to SportsWeather, we can pick NFL games based on how teams have historically performed in certain weather conditions using their data. 
SportsWeather has its own metrics system that compiles historical game-time weather data and meshes it against both NFL teams and player historical performance.
SportsWeather doesn't compile data for games that are played in domes, and all data is from the last 14 seasons. 
As mentioned earlier, frigid conditions are expected, with a wind chill of 1 degree around kickoff. In those conditions, the 49ers have a record of 7-1, while the Packers are 20-8-1. 
The wind is expected to be blowing at 10 mph. When that happens, the 49ers are 18-23-1 and the Packers come in at 34-17-1. Snow won't play much of a factor, but there is a 20% chance of precipitation by game time. When that takes place, the 49ers hold a record of 70-66-1, and the Packers are 105-57-2. 
PICK: SportsWeather.com gives the edge to the Packers and predicts them to beat the 49ers. 
Make sure to check out SportsWeather.com just prior to the game for any late-breaking conditions that could impact the outcome, as weather, such as wind speed, oftentimes rapidly changes.