FOX Weather Kickoff: Week 5 FOX NFL picks based on weather forecasts
SportsWeather.com's season record stands at 8-2 so far this season.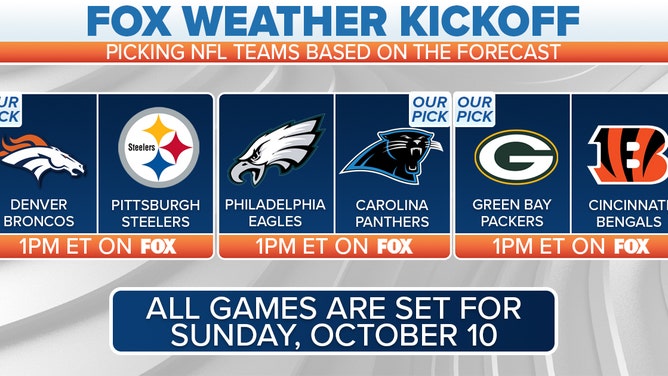 The Week 5 NFL schedule is stacked, with great matchups on FOX. 
In this week's picks, you will see that although some of the teams may have the weather edge, that edge is not enough for that particular team to ultimately prevail.
Thanks to SportsWeather, on Fridays throughout the season, we'll be picking FOX NFL games solely based on how they have historically performed in certain weather conditions. 
SportsWeather has its own metrics system that compiles historical game-time weather data and meshes it against both NFL teams and player historical performance.
SportsWeather doesn't compile data for games that are played in domes and all data is from the last 14 seasons. 
RELATED: FOX Weather Kickoff: Why the weather suggests Seattle will beat LA Rams in Thursday Night Football matchup
GAME 1: Denver Broncos at Pittsburgh Steelers - 1 p.m. Eastern on FOX 
It'll feel great in Pittsburgh on Sunday for October football. It's forecast to be 74 degrees at game time with winds at 7 mph and a 0% chance of precipitation. When playing in games where the temperature was 74 degrees, the Broncos are 63-41 and the Steelers are 57-35-1. When the winds are at 7 mph, the Broncos hold a record of 72-74, while the Steelers are pretty stout with a record of 95-51. With precipitation not being a factor, it's usually a good sign for both teams, Denver is 101-83 and Pittsburgh is 112-56 when there's a 0% chance of precipitation. 
PICK: Pittsburgh has the slight SportsWeather Edge but not enough for a win over Denver.
GAME 2: Philadelphia Eagles at Carolina Panthers - 1 p.m. Eastern on FOX 
In this NFC matchup, the weather will be as close to perfect as you can get for October football. It's going to feel like 75 degrees at the start of the game (Eagles: 52-42-1; Panthers: 49-48-1), winds are expected to be at 8 mph (Eagles: 66-55-1; Panthers: 74-64-1) with a 0% chance of precipitation (Eagles: 94-81-2; Panthers: 87-81-1).
PICK: Philadelphia has the SportsWeather Edge in this matchup, but not enough for a win over Carolina. 
GAME 3: Green Bay Packers at Cincinnati Bengals - 1 p.m. Eastern on FOX 
Out of these three matchups, it will be the warmest in Cincinnati, and who would've thought that going into Mid-October. It's forecast to be 83 degrees with no precipitation. At that temperature, the Packers hold a record of 2-3-1, while the Bengals are 4-13. Then there's a 0% chance of precipitation where the Packers are 105-57-2 and the Bengals stand at 77-93-4. Winds are expected to be at 9 mph with Green Bay holding an 83-44-1 record and Cincinnati being at 55-71-3. 
PICK: SportsWeather.com predicts a Green Bay win.
Enjoy all the great Week 5 matchups and be sure to stay with us as we continue to predict FOX NFL games throughout the season.