FOX Weather Kickoff: Why the weather suggests Seattle will beat LA Rams in Thursday Night Football matchup
The Rams are in Seattle to take on the Seahawks in a Week 5 Thursday Night matchup.
Thursday Night Football returns to FOX for Week 5 with an NFC West matchup. The Rams are in Seattle to take on the Seahawks this week.
Los Angeles (3-1) will try to get back on track after dropping its first game of the season in Week 4. Seattle (2-2) will try to win back-to-back games against its NFC West rivals after beating the San Francisco 49ers last Sunday.
Thanks to SportsWeather, we'll be picking FOX NFL games solely based on how they have historically performed in certain weather conditions.
SportsWeather has its own metrics system that compiles historical game-time weather data and meshes it against NFL teams and player historical performance.
SportsWeather doesn't compile data for games played in domes, and all data is from the last 14 seasons.
GAME: Los Angeles Rams at Seattle Seahawks – 8:20 p.m. Eastern (5:20 p.m. Pacific) on FOX
It'll feel like fall in Seattle Thursday night. It's forecast to be 56 degrees at game time, where historically the Rams are 36-39-1 and the Seahawks are 56-40 at that temperature. The wind is expected to be at 5 mph. In those conditions, the Seahawks hold a record of 86-62, while the Rams are 41-48. There is also a 0% chance of precipitation, so good news for both the teams and fans. When there's a 0% chance of precipitation, the Seahawks are 91-64, and the Rams are below average at 48-59-1. 
PICK: SportsWeather.com gives a slight edge to the Seahawks in what is expected to be a game that comes down to the wire.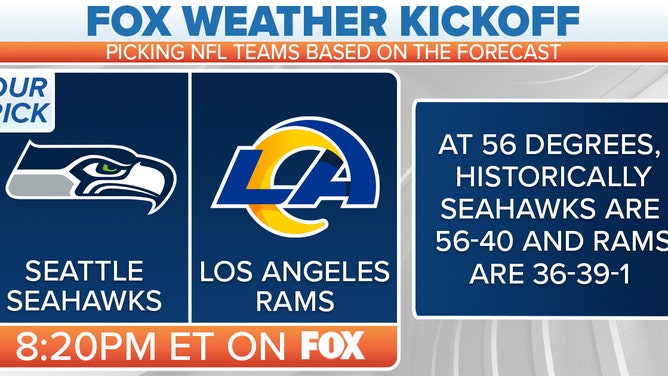 Other Thursday Night Football games on FOX to look out for include the Tampa Bay Buccaneers at the Philadelphia Eagles in Week 6, the Dallas Cowboys at the New Orleans Saints in Week 13, and the special Christmas Day matchup of the Cleveland Browns at the Green Bay Packers.