Forecast for Thursday Night Football on FOX: Texas-sized muffuletta satisfies The Big Easy
This week's Thursday Night Football matchup features two teams from cities that are known for big flavors and big appetites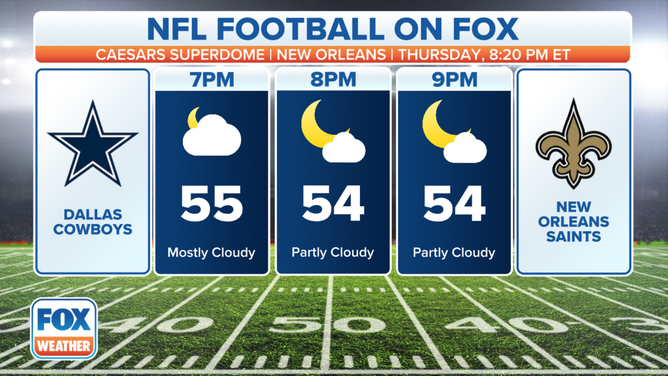 NEW ORLEANS – After an overtime loss to the Raiders on Thanksgiving, the Cowboys open Week 13 on Thursday Night Football on FOX against the Saints in New Orleans.
While Dallas is favored to win by more than 4.5 points, the Saints have won their last three games against the Cowboys at home, FOX Sports reported.
"I think Dallas covers and wins, even without Mike McCarthy," FOX Sports' Clay Travis said. "The reason why is partly Dallas, but I think it's more the New Orleans Saints. Jameis being hurt has not helped things. Certainly, there's not a lot of reason for optimism based on Trevor Siemian. Now they're going back to Taysom Hill. We see what happens at the quarterback position there."
Forecasters are expecting temperatures outside Caesars Superdome to be in the mid-50s, with mostly cloudy skies by kickoff set for 8:20 p.m. Eastern. Temperatures will remain consistent throughout the game.
For Cowboys fans firing up the grill at home, conditions in Dallas will be partly cloudy with a low around 58 degrees.
Taste of TNF recipe: Barbecue brisket muffuletta sandwich
This week's Thursday Night Football matchup features two teams from cities that are known for big flavors and big appetites. So, Dr. BBQ created a Texas-sized sandwich that's sure to be a big hit in The Big Easy.

Dr. BBQ picked brisket for his sandwich but says feel free to use your favorite deli meats and cheeses. He also said if you're not up to making your own olive spread, you can usually find jars of it in the olive section in grocery stores.
Makes about 4 servings
Ingredients
1 large round loaf of bread, split to make a sandwich
1 pound cooked beef brisket, at room temp
2 tablespoon barbecue sauce
6 slices pepper jack cheese
__________________________________
Olive salad
2/3 cup sliced pimiento stuffed green olives
1/3 cup sliced black olives
¼ cup olive oil
2 tablespoons minced shallots
2 tablespoons finely chopped celery
1 tablespoon chopped fresh parsley
2 cloves garlic, crushed
1 teaspoon black pepper
__________________________________
Directions
In a medium bowl combine the olive salad ingredients. Mix well crushing the olives as you mix. Set aside or make ahead and refrigerate overnight.
Spread a thin layer of the olive salad on the bottom half of the bread. Top with the sliced brisket spreading it evenly. Add the barbecue sauce and spread it around. Lay the cheese slice on top, then add a big spoonful of the olive salad. Spread that out evenly. Spread another layer of olive salad on the top bread and add it to the top of the sandwich. Secure the sandwich in four places with toothpicks and then cut it into quarters.
Serve at room temperature with barbecue potato chips.