EPA proposes new drinking water standards to protect against chemical pollution
Per- and polyfluoroalkyl substances (PFAS) are chemicals that have been used in consumer and industrial products and are known to have potential health impacts on humans.
WILMINGTON, N.C. – The United States Environmental Protection Agency announced a proposal Tuesday that would set new standards for what are known as "forever chemicals" in drinking water.
If enacted, the proposal would limit per- and polyfluoroalkyl substances (PFAS) at 4 parts per trillion and join the dozens of other contaminants monitored by federal, state and other governments.
The Centers for Disease Control and Prevention says PFAS chemicals are used in a variety of products but do not naturally break down in the environment and can seep through the soil and into drinking water sources.
EPA Administrator Michael S. Regan said PFAS have been linked to cancer, high cholesterol and other serious illnesses.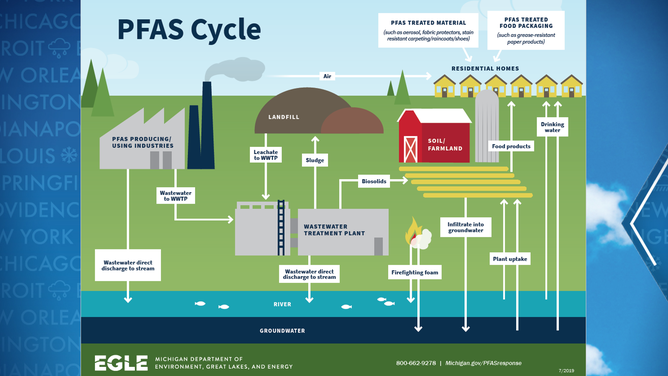 HUMANS ADDED TO WATER CYCLE DIAGRAM FOR FIRST TIME
"What began as a so-called miracle groundbreaking technology meant for practicality and convenience quickly devolved into one of the most pressing environmental and public health concerns in the modern world. These toxic chemicals are so pervasive and so long-lasting in the environment that they've been found in food, soil and water, even in the most remote corners of our planet. These chemicals can accumulate in the body over time, and we know that long-term exposure to certain types of PFAS have been linked to serious illnesses," said Regan at a news conference in Wilmington, North Carolina.
PFAS are used in products built to withstand heat, oil, grease and water and have been used for more than 50 years but not documented in environmental testing until the early 2000s.
WARMER WORLD EQUALS WETTER WORLD: CLIMATE CHANGE 'SUPERCHARGING' WATER CYCLE, STUDY FINDS
If finalized, the agency said regulations would require public water systems to monitor for the chemicals and advise users if readings exceed standard levels.
The agency did not put a price tag on how much enhanced detection methods for PFAS would cost municipalities.
A local utility provider in North Carolina, near where the EPA Administrator spoke on Tuesday, said it already has a system in place to detect PFAS and other chemicals.
The Cape Fear Public Utility Authority said it recently finished a $35.9 million project at a water treatment facility that removes the compounds to at or near non-detectable levels.
If the water regulations are implemented nationwide, the EPA estimated the new rules would prevent thousands of deaths or other illnesses from the hazardous compounds.