Halfway to Christmas: Here's some cool climatological weather to look forward to
Most cities across the Midwest struggle to see highs in the 30s and many in the Southeast are stuck in the 50s and 60s on an average Christmas Day
The countdown is on to the holiday season, with the year nearly halfway over and only 183 days to go before Kris Kringle pays children around the world a visit. 
Even though many areas are sweltering and experiencing heat waves, there is relief around the corner.
Thanks to climatology and the FOX Weather app, meteorologists have a good sense of what temperatures could be in just six short months.
On a typical Christmas Day, high temperatures tend to vary greatly across the lower 48, thanks to the jet stream's position, which usually is the demarcation between warm air to the south and cold air on the northern side.
HOW TO WATCH FOX WEATHER ON TV
Normal high temperatures on December 25 in the Northeast are mostly in the 40s and 50s, while the Midwest usually sees highs in the 30s and 40s.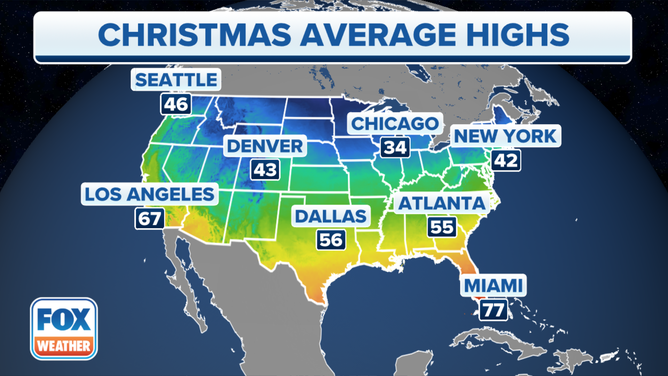 The Southeast tends to have the warmest air with highs that reach the 50s, 60s and even 70s in parts of Florida.
Some might say even the thought of experiencing the chill while in the midst of the summer gives them visions of sugar plums dancing in their heads. 
FOX Weather meteorologists aren't the only ones looking forward to the cool down, Disney and Hallmark are also planning celebrations during the next couple of weeks as the countdown to the holidays get underway.
Walt Disney resorts in Orlando and California have some special themed treats that are available and promise other surprises as part of a "halfway to the holidays" celebration.

But if staying in the AC is more your style, Hallmark's annual Christmas in July movie extravaganza will get underway on July 1.
The channel promises plenty of classic Christmas movies and a few new premieres.
WHAT ARE THE ODDS OF A WHITE CHRISTMAS?
As you get ready to plan out where you'll spend time, where the stockings will be hung by the chimney with care, use the FutureView planning feature on the FOX Weather app to find out what the weather be like.
FOX Weather's FutureView allows you to track the weather for important events up to nearly a year in advance.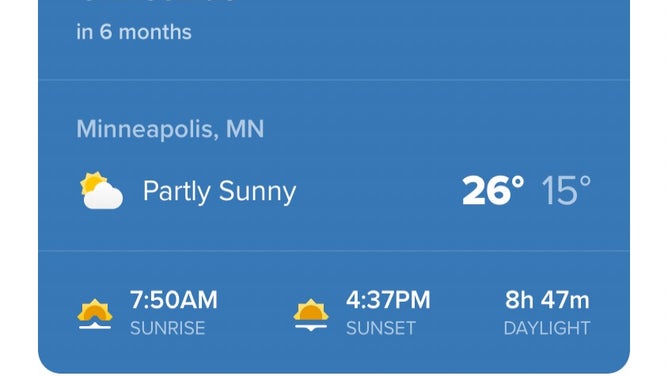 In the FOX Weather app, click on the "Plan" icon at the bottom of the screen to get started tracking the weather for weddings, vacations or even Christmas Day.