Chicago Bears installing new turf at Soldier Field ahead of season opener against 49ers
The specialty Bermuda sod that is being used for the Chicago Bears at Soldier Field is grown on what they call GameOnGrass.
CHICAGO - Grounds crews at Chicago's Soldier Field are preparing for Sunday's season opener against the San Francisco 49ers. 
For the first time ever, Bermuda grass is being installed at Soldier Field. The sod is expected to be more resilient than the Kentucky bluegrass they've had for over 30 years.
Soldier Field's grass has been an ongoing problem for years, receiving multiple complaints from players and coaches.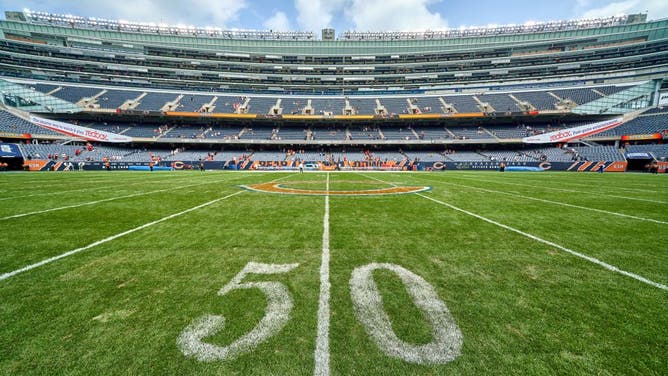 Carolina Green Corp., based in Indian Trail, North Carolina, provided the Bermuda grass to the Bears and says it has a strong root mass to provide a strong footing surface. 
HOW WEATHER CAN IMPACT NFL GAMES
The particular strain of Bermuda grass that is being used at Soldier Field, Tahoma 31, was developed at Oklahoma State, has great cold weather tolerance, along with quick recovery characteristics, and has become a favorite for their northern sites.
The specialty Bermuda sod is grown on what they call GameOnGrass (GOG). 
"GOG is a sand-based sod grown on plastic, which creates an intense root mass and unparalleled durability," said Chad Price, owner of Carolina Green Corp.
The combination of the thickness and weight, and the intense root system from plastic grown, allow GOG to be laid and played on immediately.
"It is by no means ordinary sod that needs to root in and become established prior to play," Price explained.  
GOG is currently on four other NFL surfaces: Baltimore, Washington, Kansas City, and Tennessee.
Price said they have been growing GOG for 14 years and are one of a handful of companies that grow this type of product in the country. He said it is routine practice to install GOG hours/days before play and do replacements in-season.  
"The real key is growing it on plastic, so the root mass becomes intertwined intensely, and 100% of the root mass comes to the stadium. It really is a flooring system, not typical 'sod.'" 
What happens when it snows?
Price mentioned that the Bermuda grass would go dormant in the winter, but the root mass is still there to provide a strong footing. They overseed the Bermuda grass in the fall with perennial ryegrass to provide the green color that everyone likes.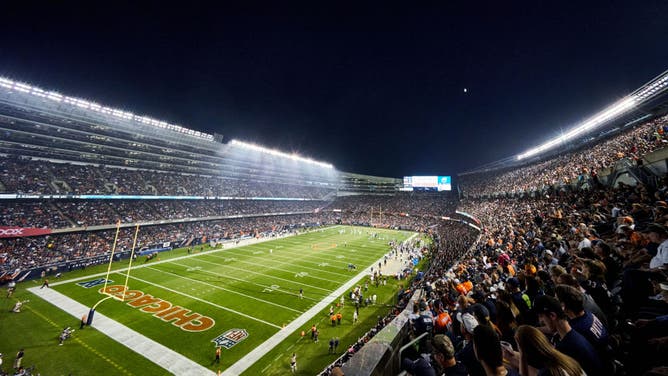 Price said that these stadiums, like Soldier Field, have an in-ground heating system to keep the root zone from freezing and to keep the grass active. He also mentioned they use field covers between games sometimes to hold heat in and to keep the grass growing.
What about the plans for a new stadium?
Meanwhile, the Bears released renderings earlier this week of a new entertainment district and enclosed stadium, should the team move to suburban Arlington Heights in the coming years.
"In September 2021, the Chicago Bears signed an agreement for the purpose of acquiring 326 acres of property in Arlington Heights to secure the potential of beginning a new and exciting chapter there," the Bears said in an open letter. "We envision a multi-purpose entertainment district anchored by a new, best-in-class enclosed stadium, providing Chicagoland with a new home worthy of hosting global events such as the Super Bowl, College Football Playoffs, and Final Four."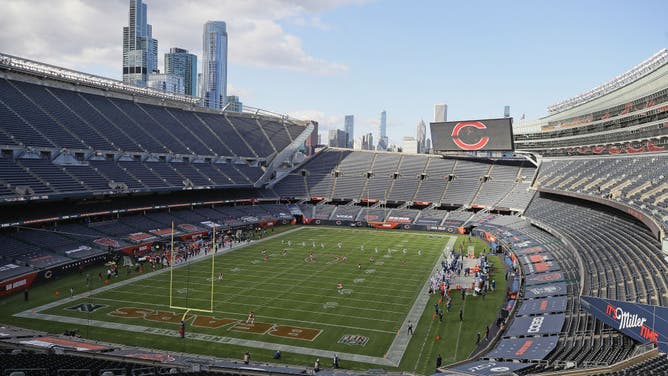 If the organization moves forward with purchasing Arlington Park, it would build its new stadium just east of Illinois Route 53 and south of Northwest Highway. 
The Bears are also looking to develop an entertainment district on the site – potentially boasting restaurants, a hotel, retail spaces and parks. 
In the meantime, we'll wait and see if this new turf will translate to winning ways for the Bears at home this season. 
HOW TO WATCH FOX WEATHER ON TV
Game prediction 
When it comes to time to pick games, we never know how much of a factor weather can or will play. Usually, teams are picked because we believe they have better players, but what about picking a team solely based on how they have historically performed in certain weather conditions? 

Well, that's what we can do, thanks to SportsWeather. 
SportsWeather has its own metrics system that compiles historical game-time weather data and meshes it against both NFL teams and player historical performance. 
It's forecast to feel like 74 degrees in Chicago at game time on Sunday. At that temperature, historically, the 49ers are 56-59-1 and the Bears are 37-42.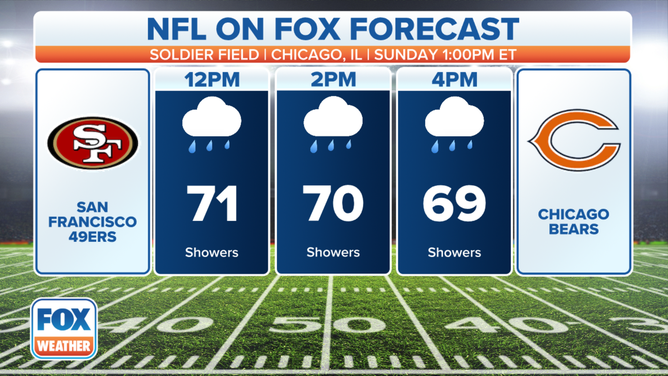 Winds are expected to be blowing at 10 mph and over the last 14 seasons, San Francisco stands at 20-26-1 while the Bears are 36-39 when winds are blowing at that speed.
There is a 70% chance of rain on Sunday when the game starts. When that happens the Bears stand at 7-5 and the 49ers come in at 10-4.
PICK: SportsWeather.com gives the 49ers the slight edge and predicts them to defeat the Bears.
Be sure to check back with SportsWeather on game day as weather can be unpredictable and may change from the current forecast.