Cheers! Weather-themed brews for National Drink Beer Day
Here are some weather-named brews that were not only highly-rated but seemed like something we'd cheers to.
Whether you are into national holidays or not, we think that today is a day that everyone can toast – National Drink Beer Day. 
As a Colorado beer drinker, I like to think I have pretty good taste for trying different beers. But as a meteorologist, I will always gravitate to try a weather-named brew or even a weather-themed brewery.
Bad Weather Brewery in Saint Paul, Minnesota, is the perfect example. The brewery is not only wonderfully named, but it has beers like Fog of War (a Hazy IPA) and Sun Pillar (a Belgian blonde ale). Seeing the lightning merchandise and the brewery's crowlers made me wish I brought a bigger carry-on.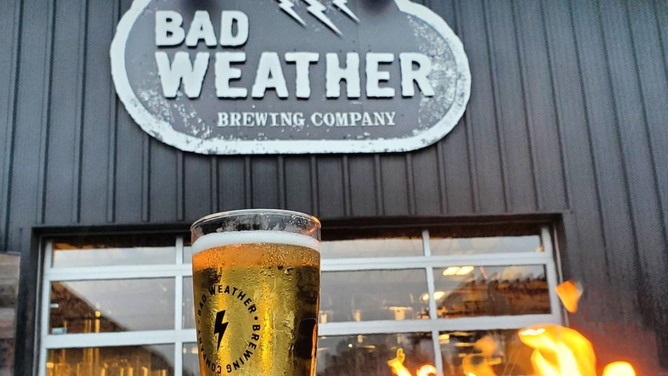 Thirsty yet? Here are some weather-named brews that were not only highly-rated but seemed like something we'd cheers to. 
Tornado Shark by Lone Pint Brewery – Not to be confused with the famous movie "Sharknado," this American pale ale is described as a taste of dark amber with a sticky-toffee colored head. It has malty sweetness with hints of dried fruit and burnt sugar.
Precipitation by Clouds Brewing – This German-style pilsner has prominent hop bitterness with mellow malt sweetness. 
Cat 5 Key Lime Lager by Fordham & Dominion Brewing Co. – This American lager tastes how you'd want it to. It is said to be light-bodied and refreshing with a subtle Key lime flavor finish. 
Thunder Cloud Pleaser by Appalachian Mountain Brewery – This Indian pale ale is the brewery's first juicy haze. The company described this beer as fresh-tasting and brewed with their favorite blend of Galaxy, Azacca, and Mosaic complemented by a touch of mango. 
Thundersnow by Madtree Brewing Co. – This Scottish ale has ginger, nutmeg, vanilla, and hints of cinnamon. The company says that just like thundersnow, conditions have to be just right to make this beer. 
Bombogenesis Double IPA by Chatham Brewing – This beer's release coincided with a significant winter storm that hit New York's Hudson Valley in 2017. The company describes it as a double IPA brewed with Simcoe, mosaic, and Citra hops, resulting in an 8.5% ABV.
Threshold by Pueblo Vida – While the name might not necessarily scream weather, this beer was inspired by climate change. The can depicts temperatures from Tuscon, Arizona, temperatures from 1920 to 2019.
Mostly Cloudy by Long Trail Brewing Co. – The company says that this beer was modeled after the original Belgian Witbiers brewed in monasteries during the 14th century. The wheat beer is described as having a light, fluffy head that reveals soft notes of citrus and spices. 
F5 IPA by Coop Ale Works – This Indian pale ale is said to be a straightforward malt body. It has hops that impart citrus, grapefruit and pine notes. 
Inversion IPA by Deschutes Brewery – This brewery wants you to ascend through dense pockets of high-altitude, floral hoppiness before reveling in an immersive malt body with a bitter yet balanced finish. 
Stormchaser IPA by Free State Beer – The company says that this beer has a storm of hop flavors ranging from grapefruit, lemon, & lime to melon and just a hint of jasmine. 
Cumulus by Hailstorm Brewing Co. – This is another excellent weather-themed brewery with a beer named after a cloud; this hazy IPA is brewed with oats and wheat. The company says it is hopped with Citra, Simcoe, Amarillo, Centennial and Kohatu hops.


Have one that I missed? Feel free to email me your top picks at heather.brinkmann@fox.com.