Miles of memories: Sun powers family's nomadic adventures across America
Bloggers Kyle and Jenn Bethune are capturing their family's travel across America on social media, taking anyone who wants to join them along for the ride in their RV
CUSICK, Wash. – Summer is almost here, and for many families, it is the perfect time to hit the road and head to their favorite vacation spot. 
For one family, however, it is the journey that's really the vacation, and the sun is helping them power their dreams.
Bloggers Kyle and Jenn Bethune are capturing their family's travel across America through social media, taking anyone who wants to join them along for the ride in their RV.
The couple, along with their three kids and four dogs, live in what they dub "Blue Betty," a well-utilized, 320-square-foot remodeled 1983 Silver Eagle bus.
HIT THE ROAD: TOP SPOTS FOR SUMMER RV GETAWAYS
"We are renovating a 2019 Mercedes Sprinter van and turning it into a camper for us to go completely off-grid and camp in some otherwise unattainable places," Jenn Bethune said.
Their entire build process of their "VANcation home" has been documented in a series on their YouTube channel, Red, White, & Bethune.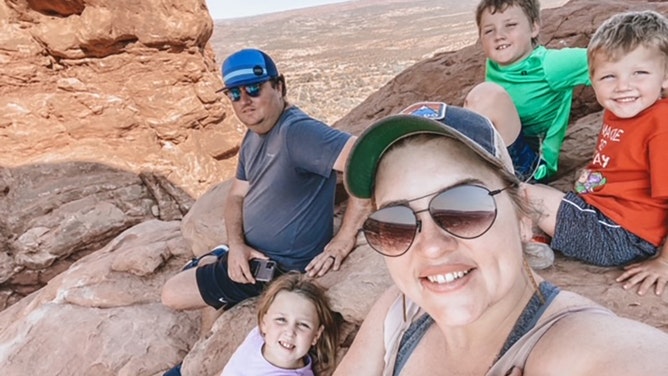 'We make it work. We build it around our family.'
For the full-time nomadic family, RVing is special because it brings them closer to their family.
"Sometimes, you have to disconnect with the technology to reconnect with what matters - your family," Jenn Bethune said.
The couple agrees that traveling the open roads also gives them the opportunity to get out in nature and unplug from the everyday hustle.
PLANNING YOUR SPRING CAMPING TRIP
Born and raised in Florida, Kyle and Jenn Bethune call the Tampa Bay area their home. They had the big fancy house but got burnt out with the grind.
"We make it work," Kyle Bethune said. "We build it around our family. We have dogs and kids, so we designed our bus and our van … to fit our family's needs -- so whatever that may be."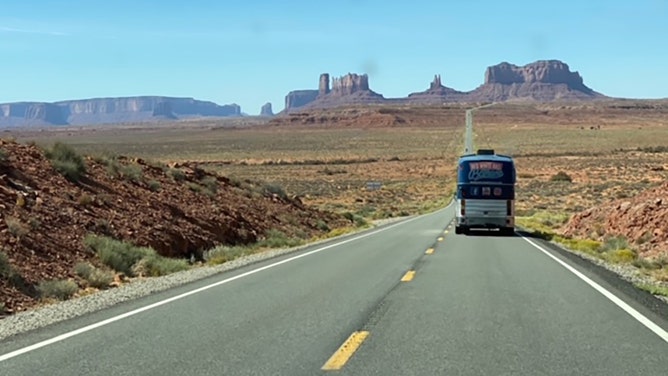 Affording miles of memories
They officially became "homeless" in March 2020, shortly after the pandemic hit. They got the motor and tread spinning in August and began homeschooling their kids.
As for affordability, the Bethunes said they cook their own meals and save on eating out food costs. Campground fees are also typically much less expensive than hotels. And if you have pets, like them, you are able to take them with you instead of boarding them at a facility.
The couple still owns several real estate properties in Florida that they rent out to tenants which is where a bulk of their income originates. They also receive additional advertising revenue from their social media presence.
SLEEPING UNDER STARS WILL COST MORE AT STATE PARKS AS CAMPING GROWS IN POPULARITY
But even with soaring gas prices, the family said they still manage to pay for their new lifestyle.
"For us, we saved $30,000 a year when we moved into our bus full time, so the rising fuel costs won't break us," Jenn Bethune said. "They are just another expense we have to budget for."
The couple said they travel less than two hours every day, and can usually go about a month before filling their gas tank.
"We love to travel," Jenn Bethune said. "This is how we make our living, also. We just endure it and make the best that we can."
They are also going green by using 2,650 watts from solar energy panels on the roof of their bus.
"We use it to power our entire bus when we go off-grid, including our ACs, simply by using the power of the sun through our panels and storing the energy into our lithium batteries," Jenn Bethune said.
Must-see summer travels
Growing up in Florida, the couple thought Idaho was nothing but potatoes. 
"And as it turns out, it is a gorgeous, gorgeous state, and the weather is amazing during the summer," Jenn Bethune said.
'GLAMPING' OFFERS ALTERNATIVE WAY TO EXPERIENCE GREAT OUTDOORS
When the Bethunes traveled there in August, it was sunny every day with temperatures in the 70s during the day and 40s at night.
"We stayed on the Salmon River with the Sawtooth Mountains in the background, but most days we couldn't see them. It was fire season and the smoke was heavy in the air," she said.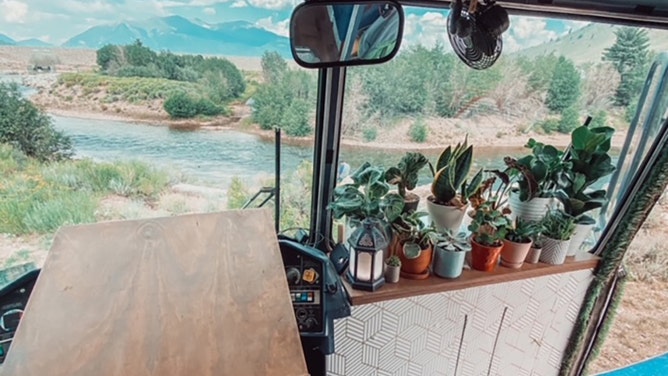 For the Bethunes, any of the northern states are great destinations that offer stunning views when the weather heats up in the south.
"And the weather is absolutely gorgeous," Jenn Bethune said.
States like Idaho, Montana, Colorado, Oregon, Washington, Utah, Michigan's Upper Peninsula, Maine and the Black Hills in South Dakota are a must.
OASIS AMID THE DESERT: ZION NATIONAL PARK IS A TREASURE OF THE WEST
"These all have fantastic national and state parks to visit as well," Jenn Bethune said.
The Craters of the Moon National Monument in Argo, Idaho, is another amazing place to visit, according to the Bethunes.
"It seriously looks like we were on the moon," Jenn Bethune said.
Utah National Parks can get toasty in September when they were there, but the evenings were nice and cool.
"It's an incredibly dry climate," Jenn Bethune said. "You don't have to worry much with rain ruining your vacation. The national parks there are simply out of this world! It was spectacular views all around."
If you want to escape the dog days of summer, Twin Lakes and Leadville, Colorado, are two places that should be on your list.
"No matter where you looked, it was spectacular views in both places," Jenn Bethune said. "The Rockies are surely a sight to behold and put on your bucket list."
One spot that they have not been to that tops their must-see list is the Olympic Peninsula in Washington.
"We're headed there this summer," Jenn Bethune said. "So, we're going to cross that off of our list to go to."
The Bethunes call themselves the "average American family" living their best life. For their thousands of social media followers, they are simply a family who welcomes living on the go and makes road-schooling comfortable, practical and stylish.
CLICK HERE TO GET THE FOX WEATHER UPDATE PODCAST
Be sure to download the FOX Weather app for the latest forecast and weather alerts for your exact location, plus the 24/7 livestream of America's Weather Team.