Bald eagles Mr. President, Lotus welcome second egg ahead of Presidents Day
Eggs are first for the nest since First Lady's departure and Mr. President found a new mate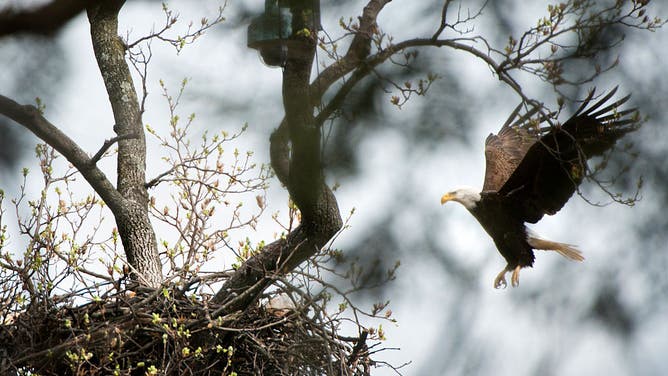 Mr. President, the American Bald Eagle, and his partner Lotus welcomed another egg just in time for Presidents Day at the National Arboretum.
Mr. President and Lotus, short for Lady of the United States and the flower, can be seen on the American Eagle Foundation's National Arboretum Eagle Cam in Washington, D.C.
Lotus laid her first egg last week and fans of the feathered pair have been waiting for the arrival of a second egg ever since.
On Sunday evening, the wait was over after Lotus laid a second egg. According to the National Eagle Center, eagles typically have between one and three eggs in a group called a clutch.
BIRD WATCHERS IN AWE OVER LOST ASIAN EAGLE'S JOURNEY ACROSS US
The expectant parents could be seen on the Eagle Cam, taking turns watching over the clutch. The Presidents Day forecast was pleasant as Lotus was seen getting some rest on her watch. It was partly sunny, with temperatures in the mid-60s.
The nest will receive rain later this week. Two back-to-back weather systems are forecast to bring rain to the Mid-Atlantic and snow and ice further north.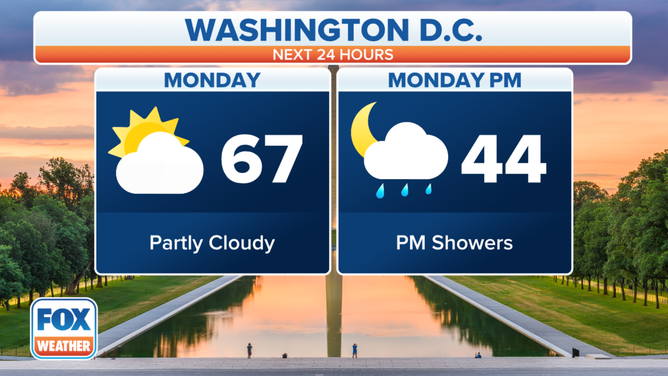 Bald eagle eggs typically incubate for 35 days, meaning two eaglets could join the nest by mid-March. The spring eaglets could even be around for the cherry blossoms to bloom in Washington, D.C., typically in late March or early April.
LEARN: THE HISTORY OF GEORGE WASHINGTON'S WEATHERVANE
This will be the first clutch for Mr. President and Lotus since she arrived at his nest last February and the first eggs in the nest since 2018.
The American Eagle Foundation first began streaming Mr. President and his former mate, First Lady, in 2015. According to the nonprofit, the First Lady departed last February and has not been seen since. Lotus became his mate soon after the First last left the nest.