Headed to the Atlanta World Series parade? Wear your warmer Braves gear
Temperatures will be in the 50s for Atlanta Braves World Series parade-goers
ATLANTA -- There's no better way to celebrate a World Series championship than with a parade, and the Atlanta Braves will do just that Friday to celebrate with their biggest supporters.
For Braves fans ready to cheer on the champions, they will need their warmer Braves gear Friday. The coldest temperatures of the season have begun rolling into the Southeast.
On Tuesday, the Braves celebrated a 7-0 victory against the Houston Astros in Game Six to win the 2021 World Series at Minute Maid Park. The morning after the win in Houston, the team announced a parade to celebrate at home in Atlanta Braves country.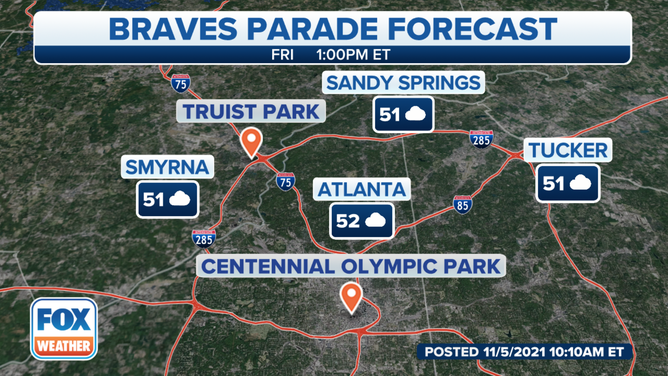 Friday will have increasing clouds through the day, with a high near 55 degrees in Atlanta. A Braves windbreaker or sweatshirt would be an excellent way to show support because while the winds will be blowing out of the east around 5 to 10 mph, gusts as high as 15 mph are expected.
Around noon when the parade starts, it will be near 50 degrees in Atlanta.
Despite the cooler temperatures, it's unlikely to deter Braves fans ready to cheer on their first champions since 1995. FOX 5 Atlanta reports more than 1 million people are expected to attend. Cobb County and Atlanta metro schools will be closed for the day to allow the youngest Braves to be part of the event.
Starting at noon, the parade begins in Atlanta at Marietta Street NW and Peachtree Street. It will go north up Peachtree and stop at 10th Street. If you want to secure your spot along the route, Atlanta police recommend being in place by 11 a.m.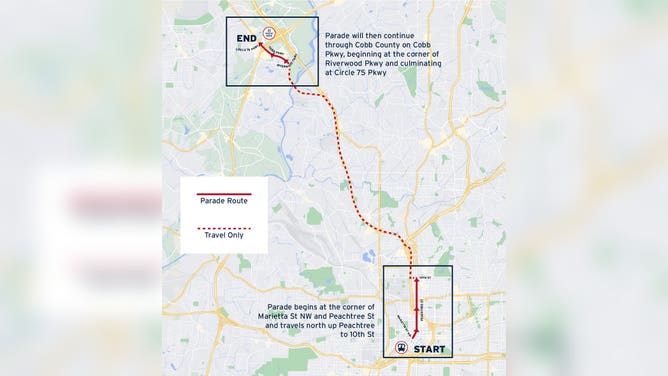 The Braves will then travel north to Cobb County and pick up the celebration by 2 p.m. at the corner of Cobb and Riverwood parkways. The journey ends at Truist Park, the home of the Atlanta Braves.
It's time to pull out on your favorite Braves beanie Friday night when celebrations continue. Temperatures will drop into the lower 40s after sunset.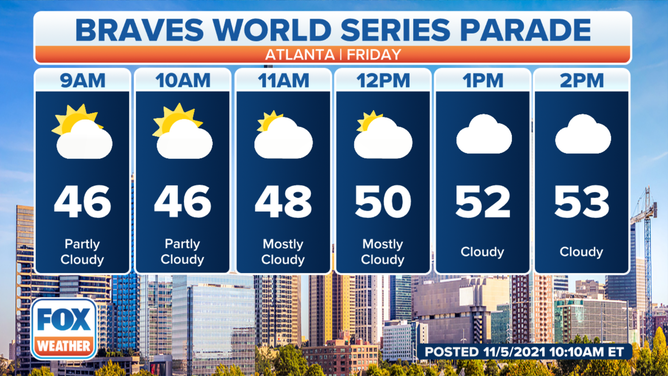 Download the FOX Weather app to stay updated on the forecast for your next sporting event with the plan feature.