Allergy season is starting earlier, lasting longer and getting worse, study says
A new study from Climate Central found that plants are leafing and blooming earlier, and the overall growing season is lasting longer across much of the U.S. This is leading to a longer-lasting, worsened allergy season.
It's that time of year again. Ahhh-cho! 
Many communities from Texas to the Carolinas are seeing the initial sprouting of leaves after the dormant winter.
As the spring leaf out spreads north, it's arriving several days to weeks earlier than average in much of the Southeast, lower Midwest and mid-Atlantic, according to the USA National Phenology Network.
TRACK THE PROGRESS OF SPRING THROUGH LEAF PRODUCTION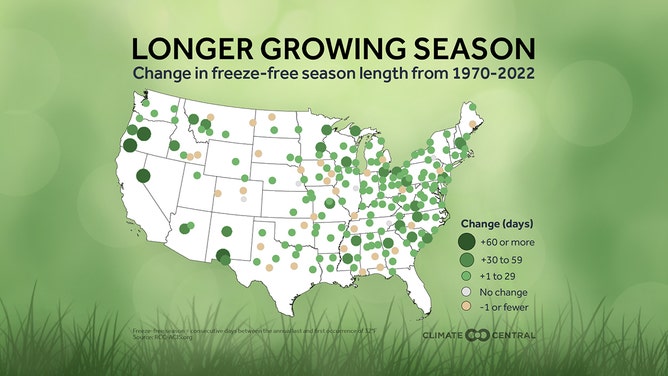 For people allergic to pollen, allergies occur in traditional pollen seasons. Some examples include trees, which tend to pollinate in the spring; grass, which tends to pollinate in the summer; and weeds, which tend to pollinate in the fall.
To analyze how the growing season has changed in the U.S., Climate Central assessed temperature data for 203 cities since 1970. 
On average, the freeze-free season lengthened across the country by 15 days. In addition, 85% (172) of the cities saw their freeze-free seasons lengthen.
In 31 cities, the season between the last and first freeze grew by at least a month, Climate Central's study found.
The growing season in Reno, Nev., increased by 99 days. It was among the most significant increase in the country.
ACHOO! HOW YOU CAN MANAGE SNEEZING, ITCHY EYES AND OTHER FALL ALLERGY SYMPTOMS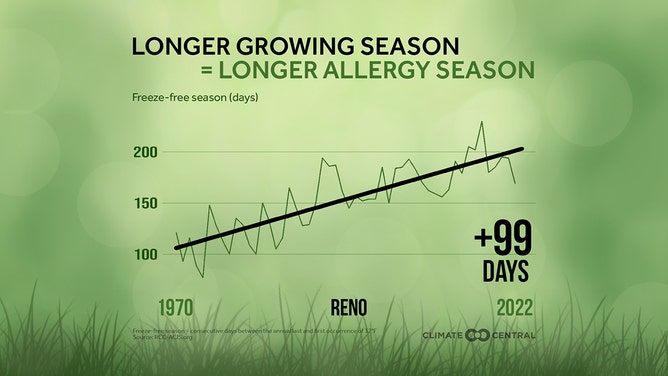 Climate Central has found that the freeze-free season has lengthened the most in the West by 27 days since 1970. The freeze-free season lengthened by more than two weeks in the Southeast, Northeast and South. The Central region saw the freeze-free season lengthen by 13 days.
"Earlier spring and longer periods of freeze-free days mean that plants have more time to flower and release allergy-inducing pollen," Climate Central said in their report.
Spring's early arrival is bad news for seasonal allergy suffers
According to the Centers for Disease Control and Prevention, about one-quarter of adults (26%) and 19% of children in the U.S. suffer from seasonal allergies.
Those who suffer from pollen and mold can thank climate change, according to Climate Central. Earlier spring and longer periods of freeze-free days mean that plants have more time to flower and release allergy-inducing pollen.
Dr. Purvi Parikh, an allergist and immunologist with the Allergy Asthma Network, told FOX Weather that she is not surprised by the early reports of leaves and pollen.
"We've been seeing a general trend over the last few decades of pollen seasons getting longer and more potent because of warming. We are finding that they're starting earlier and earlier, and there is a much higher pollen count because of rising carbon dioxide levels," Parikh said.
Based at the University of Arizona, the USA National Phenology Network says it is always looking for volunteers to submit observations to help further data models. To take part in the Nature's Notebook program, click here.
The network has also made it easy to determine how your community is warming up compared to previous years. Users can search data by zip codes to determine how far ahead or behind the growing season is compared to normal.