Will weather affect the Texas primary election?
Take a look at Tuesday's forecast across Texas.
The Texas primary elections are today from 7 a.m. to 7 p.m. Will weather impact voter turnout?
"Because it will be warm, and there are several high profile elections like attorney general and railroad commissioner, who oversees energy production in Texas, I think we'll see slightly higher numbers," said David Richards, Ph.D. and Chair of the Political Science Program at the University of Lynchburg. 
Weather shouldn't be a deterrent statewide today. Partly sunny skies with high temperatures in the 60s to low 70s will greet voters as they head to the polls.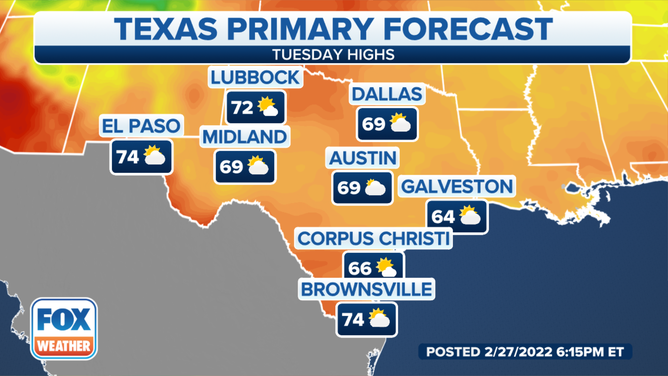 Does weather affect voting?
Richards pointed to a couple of studies about weather and voter turnout. 
"A warm spell, especially after it has been cold, will sometimes lead to increased voter turnout," said Richards about a 2017 study in Frontiers in Science in 2017. "This is the case in Texas Tuesday – it will be warm after a cold weekend, so we might expect a slightly higher voter turnout than most primaries."
Look at the warmup on the "Temperature Departure" maps. Most of the state started the weekend with below-average temperatures. On Tuesday, highs will be 5 to 10 degrees warmer than average across the northern part of the state and a few degrees cooler than average across South Texas.

The study also suggested that heat could sway voters to mark their ballot for the incumbent. For every 1.8 degrees Fahrenheit the temperature increased over the previous week's, turnout increased by 0.14%.
Rain won't be a factor for these primaries, but it deters 1% of American voters per inch in presidential elections, according to a 2007 study in the Journal of Politics. One inch of snow lowers turnout by 0.5%. 
WEATHER CAN AFFECT ELECTION TURNOUT
Early voting
Tuesday's dry and comfortable weather looks very unlike the turbulent weather early voters dealt with last week. Early voting was open to all registered voters from February 14 to February 25.
Anyone headed for the polls Wednesday or Thursday probably had a sense of déjà vu with ice, sleet and freezing temperatures. After all, early voting started on the one-year anniversary of the Great Texas Freeze, a winter ice storm that knocked out power to counties across the state and killed over 200 people.
'YOUR WORST NIGHTMARE': HOUSTON WOMAN STILL STAYING IN AIRBNB YEAR AFTER FREEZE THAT HEAVILY DAMAGED HER HOME
Weather forced Dallas officials to close the polls early on Wednesday and kept doors shuttered on Thursday.
Other portions of the state experienced record warmth, wildfires, severe thunderstorms, an ice storm and snow.
SLEET STORM CREATES ICY SCENES IN TEXAS
Previous March 1 weather
Incumbents indeed would have prevailed (per the 2017 study) if Election Day was held on March 1, 2006, when temperatures were 15-30 degrees above average. Ten cities broke their all-time March records as temperatures across the state were 15-30 degrees above average.
Record highs March 1, 2006:
Fort Worth  - 95
Denton - 95
Mineral Wells - 98
McKinney - 89
Arlington - 92
In November, the General Election is for all of Texas' 254 counties and 5,024 polling places.